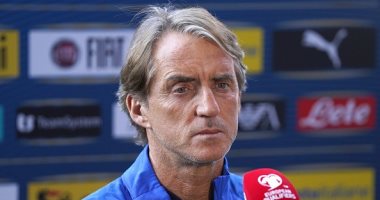 Roberto Mancini, the coach of the Italian national team, urged his players to fight against the Swiss national team during the match between the two teams, today, Sunday, at the "St. Jacob's Park" stadium, as part of the fifth round of Group C of the European qualifiers for the 2022 World Cup.
"They are missing three or four important players, but the matches played here in Switzerland are always difficult, we did not have an easy match here, so it is up to us to make this as simple as possible for ourselves," the Italian coach said in comments published by the "Football Italia" network.
Mancini warned this week that the Azzurri must be prepared for the future and stop thinking about winning Euro 2020.
"What we have done is there for all to see, and no one can take it away from us, and we are happy to have our place in history," Mancini said. well and to fight hard."
Mancini confirmed that Giovanni Di Lorenzo and Giorgio Chiellini will be in the starting lineup tonight, replacing Alessandro Florenzi and Francesco Acerbi after the 1-1 draw with Bulgaria on Thursday.
Mancini defended Lazio striker Ciro Immobile after his decline with the national team, saying: "I defend all the players who gave everything for the Azzurri. in my opinion".
He continued: "He just has to relax and not try to do more than is necessary, especially after what we achieved this summer."
He completed: "Nicolo Zaniolo is with us tonight, so he has a chance to play, while Moise Kean hasn't played a single minute so far this season."