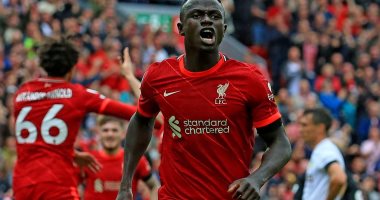 Senegalese Sadio Mane won the Liverpool Goal of the Month award for the month of August, thanks to his goal against Burnley in the second round of the English Premier League for the current season 2021-2022..
Mane surpassed his Egyptian international colleague, Mohamed Salah, and his goal against Norwich City in the first round at Carrow Road Stadium, in addition to a goal, Cade Gordon, with the youth team against Everton..
The Senegalese international scored his goal against Burnley to make it 2-0 in the match that was held at "Anfield" to secure his team's victory for Liverpool with the three points.
While Mohamed Salah's goal against Norwich City came in second place and Gordon's goal third, as published by the official website of Liverpool FC..
Roberto Firmino's goal against Norwich ranked fourth in the August Best Goals Ranking, while Diego Jota's opening goal of Liverpool's season against Norwich was fifth..
Mohamed Salah is preparing to lead Liverpool away from home with Leeds United in the fourth round of the Premier League next Sunday, the 12th of this month.
Mohamed Salah is also waiting for a strong confrontation when Liverpool hosts his Italian counterpart Milan in an awaited confrontation with the opening of the Champions League group stage on 15.
Liverpool collides with its guest Crystal Palace in the English Premier League on the 18th, before it is a guest of Norwich City on the 21st in the third round of the League Cup..
Liverpool occupies fifth place in the English Premier League standings this season with 7 points, collected by winning over Norwich City 3-0, over Burnley 2-0 and drawing with Chelsea 1-1, while Tottenham leads with 9 points..