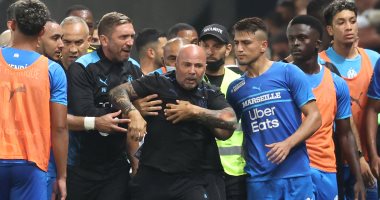 Today, Thursday, Olympique Marseille considered that the penalties imposed by the disciplinary committee of the French League on the Spaniard Alvaro Gonzalez, by suspending two matches, and the Frenchman Dimitri Payet, by suspending a match, are unfair, against the background of some fans of the Nice team storming the stadium of the match that hosted the two teams' confrontation last August..
Pablo Longoria, president of Marseille club, expressed his displeasure, in a statement published in response to the decisions of the Disciplinary Committee published yesterday, Wednesday, where he said: "Our players should have been active in a football match, but they ended up becoming the victims of that evening. Punishing them for violence." Whoever signed is the easiest way".
The events erupted in that match when some fans of the Nice team threw plastic bottles at the Olympique Marseille players, until one of those bottles hit Payet, who in turn threw it on the stands, which one of his colleagues did as well..
As a result, some Nice fans stormed the stadium and entered the field to attack the Marseille players, despite the efforts made by the security men to contain the situation..
In addition, the Disciplinary Committee imposed a severe penalty on Argentine Pablo Fernandez, the physical trainer of the Marseille team, as it decided to ban him from "practicing any official work" until June 30, 2022 because of his participation in the quarrel that took place between the players inside the stadium..
Television clips of the 50-year-old were circulated, as he struck a blow in the neck to one of the Nice fans who stormed the stadium..
The Disciplinary Committee also decided to deduct two points from the Nice team, one of which is suspended, in addition to playing three matches without an audience, including the Marseille match, which will be repeated at a neutral stadium and without a public presence..