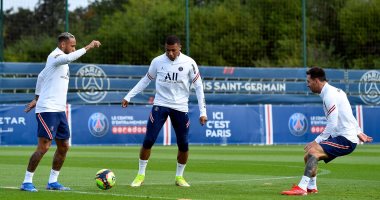 Paris Saint-Germain will face Montpellier tomorrow, Saturday evening, at the Parc des Princes, in the eighth week of the French League.
The French "Radio Monte Carlo" stated that the Paris club's training witnessed the absence of many stars, such as Neymar, Messi, Icardi, Hakimi, Marche, Kimpembe, Mbappe, Navas, Wijnaldum and Nuno Mendes.
Kylian Mbappe was crowned the best player in the French League for the month of August, presented by the National Football Association, for the sixth time in his career, becoming the most crowned in it.
Radio Monte Carlo clarified that the main players who participated in the match against Metz did not participate in the current training, and the team had won its previous match against Metz with two goals against a goal, which took place the day before yesterday, Wednesday, in the seventh round.
And participating in the training are: Herrera, Paredes, Betomazala, Bernat, Kerrer, Shadaili, Diallo, Idrissa, Kurzawa, Draxler, Dina Abembe, Di Maria, Daqaba, and Paris leads the French league standings with a full score of 21 points.
In a different context, press reports revealed that the French series, Kylian Mbappe, the player of Paris Saint-Germain, and his fate with the management of the French club in the coming period, is a continuous offer, after the player set an impossible condition in order to agree to extend his contract with the Parisian club.
And the Spanish "Bernabeu Digital" website said that Mbappe revealed his only condition for renewal with the Parisian club, and to stay in the Princes' Garden during the coming period, and the player put a clause allowing him to break his new contract with the French capital club for only 80 million euros.