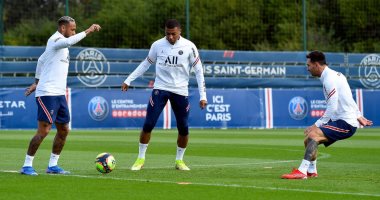 Argentinian coach Mauricio Pochettino received a moral boost before facing Clermont, tomorrow, Saturday, in the fifth round of the French League.
The French newspaper, L'Equipe, reported that Kylian Mbappe returned to Paris Saint-Germain training today, Thursday, after recovering from the muscle injury he suffered with the France national team during the ended international break.
And Kylian Mbappe had suffered a muscle injury, which led to his leaving the France camp, and his absence from the matches of Bosnia and Herzegovina and Finland in the European qualifiers for the 2022 World Cup in Qatar.
She added, that Kylian Mbappe will participate in the Paris Saint-Germain match against Clermont, but he may not be pushed into the starting line-up for fear of aggravating his injury.
Paris Saint-Germain officials did not succeed in convincing Kylian Mbappe to renew his contract, which expires next June, and the club insisted on staying to deprive the player of the opportunity to move to Real Madrid last summer.
And if Kylian Mbappe insists not to renew his contract with Paris Saint-Germain, he will join Real Madrid next summer, free of charge.