Meghan Markle, the Duchess of Sussex and Prince Harry's wife, revealed that she is still searching for coupons and discount offers, while shopping online, and spoke about this during an online conference hosted by The New York Times on the importance of financial literacy for young people..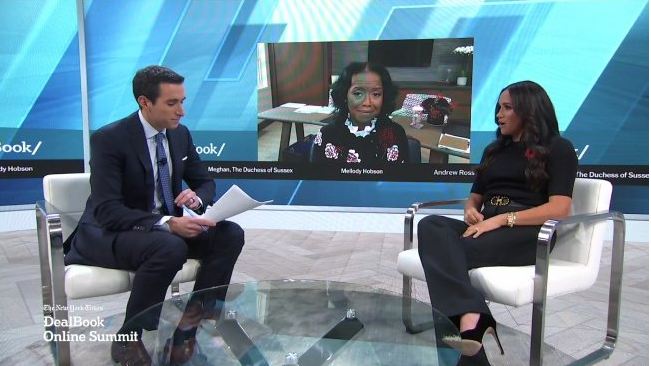 Megan Markle during her talk about taking advantage of the discounts
And Megan Markle, during the conference, appeared in an elegant black jacket made of cashmere and black trousers with an elegant belt with a golden buckle, and decorated her look with an elegant brooch in the form of a large red poppy flower, in celebration of Veterans Day in the United States and Memorial Day in the United Kingdom, and during the conference, the Duchess of Sussex revealed About that she had been accustomed since childhood to look for discount vouchers and use them in shopping, and she said that she learned this from her mother, and she talked about it and said: "If this behavior (financial and economic awareness), is rooted at an early age, and if young people and young people are encouraged to understand More about the stock market, or early financial literacy, that would make a big difference".
Meghan continued, "I learned growing up, to look for and cut coupons and vouchers to use in shopping and now that's ingrained in me too. In my childhood it still existed in me, just evolved to keep pace with the nature of the times, because it was ingrained in me when I was young, imagine what the world would be like if we inculcated other elements of financial awareness, especially for young women".