Melinda Gates, the wife of the businessman and founder of Microsoft, urged citizens to donate to coincide with Christmas, in light of the loss of many jobs and jobs due to the spread of the Corona virus due to precautionary measures to prevent the epidemic that struck the world in a new wave.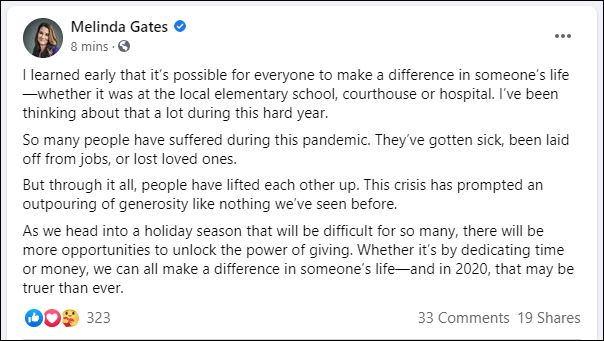 Melinda Gates
Melinda Gates wrote, on her Facebook page: "I learned early that it is possible for everyone to make a difference in someone's life, whether it be in the local elementary school, court or hospital, I have been thinking about it a lot during this difficult year."
"So many people have suffered during this epidemic, they got sick, were laid off, or lost loved ones, but through all of that, people helped each other, this crisis has led to an overflow of generosity like anything we've seen before," she added.
And she continued: "As we approach the holiday season, which will be difficult for many, there will be more opportunities to unleash the power of giving. Whether it is through devoting time or money, we can all make a difference in someone's life and in 2020, that may be much healthier." since when".
It is noteworthy that Melinda Gates runs the Bill Gates Foundation for Charity and at the beginning of the Corona crisis donated $ 150 million to accelerate the development of treatments, vaccines, and public health measures to deal with the outbreak of the emerging corona virus..