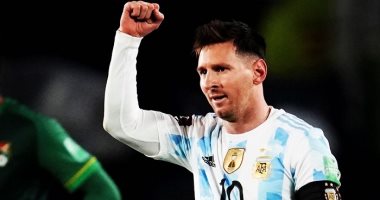 Argentine star Lionel Messi succeeded in equalizing the record of former Brazilian star Pele, as the most goalscorer in the history of South America with 77 goals, after he scored the first goal of the Tango team against his Bolivian guest, which is currently being held at the "Monumental" stadium in the capital, Buenos Aires, as part of the tenth round confrontations. South American qualifiers for the 2022 World Cup.
Messi scored Argentina's first goal against Bolivia in the 14th minute, with a superb shot to the right of the goalkeeper.
Messi scored 77 goals in his career with the Argentine national team since 2005 until now, during his participation in 153 games in all competitions.
Today's match will witness the return of the public to watch the national team from the stands after an absence that lasted about a year and a half, due to the crisis of the outbreak of the Corona virus.
The Argentine team, led by its star Lionel Messi, seeks to win and is close to qualifying for the 2022 World Cup, especially if the three points are counted in the Brazilian team match, while Bolivia is playing in the hope of achieving a surprise against the Tango team.
Argentina started the match with the following formation:
Goalkeeper: Musso.
Defense: Pezzella, Acuna, Molina, Otamendi.,
Midfield: De Paul, Paredes,
Forwards: Messi, Di Maria and Lautaro Martinez.
Argentina is in second place in the qualifiers with 15 points from 7 matches, pending the outcome of the FIFA decision regarding the canceled Brazil match, while Bolivia is in the ninth and penultimate place with 6 points.
The Brazil national team match against its Argentine rival, which was scheduled to be held last Sunday, was canceled due to the union of a number of officials in the Brazilian Ministry of Health, the match stadium, to remove the Argentine team's quartet coming from Britain due to sanitary isolation procedures.
The South American Football Confederation (CONMEBOL) issued an official statement on the crisis in the confrontation between the Brazilian national team and its Argentine guest.
The statement added: "The referee and the match observer will submit a report to the FIFA Disciplinary Committee, which will determine the steps to be followed. These procedures strictly comply with the current regulations," explaining, "The World Cup qualifiers are a competition belonging to FIFA. All decisions related to its organization and development are made by it."