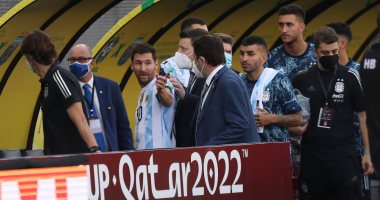 The captain of the Argentine national team, Lionel Messi, launched a violent attack on health officials in Brazil, after the crisis that occurred yesterday, Saturday, and caused the cancellation of the two teams' match in the South American qualifiers for the 2022 World Cup at the "Arena Corinthians" stadium.
The crisis began with the match between the Brazilian national team and its Argentine counterpart stopping a few minutes after its start. FOX Sports BrasilTelevision, that the Super Clasico was suspended due to a request by members of the "Anvisa" organization, the national health monitoring agency in Brazil, to stop the match due to the participation of Argentine players who violated the quarantine rules.
As a result of stopping the match, the Argentine national team players withdrew from the field after the Brazilian health officials entered the stadium and tried to remove the Tango players from England from the match. Because they violated health protocols by force, which was rejected by their colleagues, led by captain Lionel Messi.
Messi said in statements published by the Argentine newspaper "Ole", "We have been here for 3 days, why did you wait until the start of the match, why did you not warn us about this in advance or when we were in the hotel?"
The Tango leader added, "They were supposed to explain this to us and we could have settled things, but now the world is watching us."
The International Football Association "FIFA" had commented on the Argentina-Brazil match crisis, saying, "FIFA can confirm that after a decision by the match referee, the Brazil-Argentina match in the 2022 World Cup qualifiers has been suspended," adding, "More details will be announced." about it at the right time."