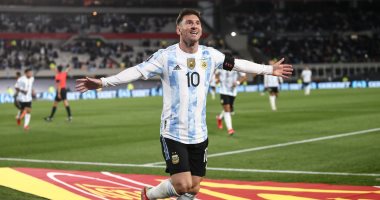 Lionel Messi scored a remarkable number after leading Argentina to a 3-0 victory over its host Bolivia, in the meeting that brought the two teams together this Friday morning, at the "Monumental" stadium in the capital, Buenos Aires, as part of the tenth round of the South American qualifiers qualifying for the World Cup finals. world 2022.
Messi, the French star of Paris Saint-Germain, scored a hat-trick for Argentina in the 14th, 64th and 88th minutes.
The "Opta" statistics network reported that Messi reached his 26th goal in the history of World Cup qualifiers, to be the top scorer in South America in the qualifiers, surpassing his former teammate in Barcelona, ​​Uruguayan star Luis Suarez, who scored 25 goals.
Messi took advantage of the absence of Atletico Madrid star Suarez from participating in the three Uruguay matches during the international break, due to injury, to take the lead.
Lionel Messi also became the first South American player to score in 20 World Cup qualifiers.
Messi scored his seventh hat-trick with Argentina The second for him in the World Cup qualifiers and the first at home in this competition.
Lionel Messi also became the sixth South American player (and the first Argentine) to score a hat-trick in a World Cup qualifier, in addition to being the top scorer for South American teams throughout history with 79 goals, surpassing the legend Pele, who scored 77 goals.
The Argentine national team consolidated its second position in the standings of the South American qualifiers for the 2022 World Cup in Qatar, with 18 points, behind the leaders Brazil with 21 points, and is currently playing with its Peruvian team.