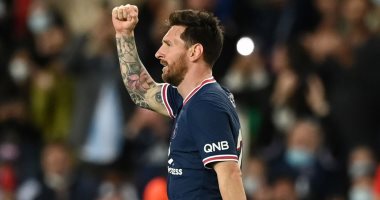 The Argentine star, Lionel Messi, player of Paris Saint-Germain, expressed his happiness by scoring his first goal in the BCG shirt in the 2-0 victory over Manchester City, this evening, Tuesday, at the "Princes Garden" stadium, in the second round of the group stage of the League competition. European Champions for the current season 2021-2022.
"We won an important match against an opponent with very great players, who was in the final last year," Messi said in his comments after the match. "It is an important victory for us. We must continue to grow, progress and improve."
Messi added, "I am happy to score my first goal with the team, I wanted to do it. I played a little recently, where I only played one game. I am here to adapt to the team and my teammates, but the important thing is always to win."
And about his relationship with the duo Mbappe and Neymar, Messi explained, "The more we play together, the better. We must grow together and do the best and continue to do so."
The Argentine star Lionel Messi scored the second goal for PSG with a superb shot in the 74th minute of the match, and this goal is the first signed by the flea with Paris Saint-Germain after he moved to him during the last summer transfer period from Barcelona, ​​Spain.
Messi returned to participate with Paris Saint-Germain against Manchester City, after recovering from the injury he suffered in the left knee, against Olympique Lyon in the sixth round of the French League, and his absence against Metz and Montpellier, respectively..
With this result, Paris Saint-Germain tops the table of the first group standings in the Champions League, after raising its score to 4 points, ahead of only Club Brugge, the runner-up, with the same balance of points, while Man City came third with 3 points, and Leipzig is at the bottom of the standings without any points.