In the United States, a young, rich and brutal country, which makes believe that everything is possible with effort, there are those who invent Microsoft in a garage; also, who conspires to provoke a civil war. Adam Fox was one of the latter. A dungeon-like basement, a dark, cluttered room in a vacuum cleaner shop in a small Michigan town. That is where, for months, this 37-year-old man, along with five others, hatched a plan to attack the State Congress, kidnap the governor and instigate an armed insurrection. Everything, before the presidential elections of November 3.
"I feel in shockI feel hurt, I've known him since I was a child, "said the owner of that business, Brian Titus, shortly after the arrest of Fox and his henchmen.
It's Saturday, October 10, and the Vac Shack in suburban Grand Rapids is seeing a steady trickle of customers. Also, Titus comments, some gifts have arrived. "It's people from the neighborhood, who know me, and send shows of support." Two days ago, his store became famous throughout the country. The FBI had just arrested 13 men accused of terrorism and weapons charges, six of them suspected of wanting to kidnap Democratic Governor Gretchen Whitmer. The ringleader was his employee, Adam Fox, whom he had let live in that room, as a temporary solution, when he broke up with his girlfriend. "I knew him since I was a child," he says.
The US elections have turned into a powder keg. The political tension, the wave of protests against racism and the emboldening of ultra groups coexist at a critical moment: with a serious economic recession, a pandemic that has left almost 220,000 dead and a president who, without evidence, has sowed doubts about the cleanliness of the electoral process and speaks of possible fraud. The International Crisis Group, a Washington organization dedicated to warning of possible conflicts around the world, has decided to focus on the United States for the first time in its 25-year history. Last month, the Department of the Interior warned that violent white supremacy was "the most persistent and deadly risk" facing Americans at home.
The feds searched every corner of Brian Titus' vacuum cleaner shop. The group, which had infiltrated agents, spent months planning the operation, practicing with weapons and studying the making of explosives. They staked out Whitmer's summer home in August and September. On at least one occasion, they discussed the operation in the basement: taking the governor to "a safe place" in Wisconsin and putting her on "trial." An informant or undercover police officer recorded the conversation, in which Fox said, "Go and get her, man. Grab the fucking governor. Just grab that bitch. Because, at that point, we do it, and it's all over."
Join EL PAÍS to follow all the news and read without limits.
subscribe
She is a rising star of the Democratic Party, chosen, for example, to reply to the president in the State of the Union address last February. She is also one of the names that was considered as number two of Joe Biden in the electoral race and vice-presidential candidate. Trump once referred to her, disparagingly, as "that woman from Michigan." The expression became a slogan for t-shirts that the governor herself wore on television.
His confinement measures to curb the coronavirus unleashed the anger of far-right groups, who at the end of April appeared armed at the Capitol, in the state capital, Lansing, starring in scenes that traveled half the planet. Trump had added his dose of tension by writing on Twitter: "Lead Michigan!" Some of those who participated in these protests were members of a militia called the Wolverine Watchmen. At one point, Fox and his co-conspirators realized that they needed technical support for the plan and contacted seven members of this organization. They have also been arrested.
"There have always been many militias, I am not sure that in recent years they have increased in number, but they are more noticeable than before. There's a lot of anger and things have gotten volatile," says Mark Arena, who worked for years in the FBI's counterterrorism unit in Michigan and now teaches at State University School of Law.
"There was a moment when I started to get nervous; I wasn't sure what was going on, but I didn't like it," says the owner of the vacuum cleaner store. "He started buying too many weapons, they came here, and I told him that I preferred that he move. Having weapons is legal, belonging to a militia, too; what they wanted to do, that is no longer legal".
The legality of the militias is a gaseous issue. The 50 States of the Union prohibit "private and unauthorized militias, as well as military units that carry out activities reserved for security forces," according to data from the Institute for the Defense and Protection of the Constitution of Georgetown University. However, forming a group and calling oneself a militia is legal, as is possessing weapons, as the merchant says, or holding meetings, within the freedom of assembly and, of course, criticizing the Government.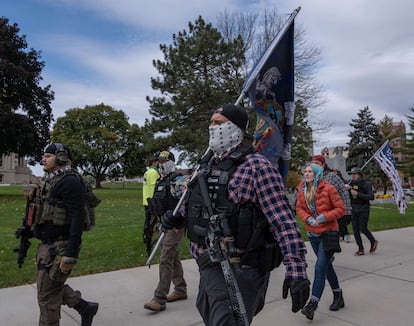 A combination of facts and circumstances that make it possible for hundreds of groups to roam the United States playing war, dressed as soldiers and carrying rifles. Sometimes, they call demonstrations that seek to intimidate those who do not agree, like the one at the Capitol a few months ago; others are dedicated to supporting the riots, like last August in Kenosha (Wisconsin). Many of them espouse far-right ideologies.
And Michigan carries a heavy legacy. On April 19, 1995, an explosives-laden truck blew up outside a government building in Oklahoma City, killing 168 people. The two convicted of the massacre, Timothy McVeigh and Terry Nichols, were far-right and had ties to the Michigan Militi, founded a year earlier and still operating today. One of the best known groups calls themselves Boogaloos, by an eighties movie, and they usually wear Hawaiian shirts combined with camouflage clothing.
According to the Anti-Defamation League, militia activity grew after Democrat Barack Obama's victory in 2008, making him the first black president in US history. With Trump coming to power, many of them were emboldened. They saw how one of the great agitators of the alt-right, Steve Bannon, had become a White House adviser. On November 19, 2016, 11 days after the election, a well-known ultra-conservative activist, Richard Spencer, gave a lecture at the Ronald Reagan Building in Washington, ending with a toast shouting "!Hail Trump, hail our people, hail victory!" Several attendees responded with raised arms.
Trump did not found these groups, but he has not done much to placate them either. In the first presidential debate, on September 15, he refused to condemn a far-right group called Proud Boys (in Spanish, proud boys). The day of the arrests for the attempted kidnapping of the governor, he wrote in his account that politics had "done a bad job." Furthermore, he complained: "Instead of thanking [por la intervención del FBI]calls me a white supremacist", in reference to the governor, who had reproached him hours before that, in the face to face with Biden, he had avoided criticizing groups like the one in Michigan.
Days later, in the first hearing before the judge, one of the agents assured that the defendants also planned to kidnap the Democratic governor of Virginia, Ralph Northam. Adam Fox already warned: "I want the world to burn."
Subscribe here to the newsletter on the elections in the United States