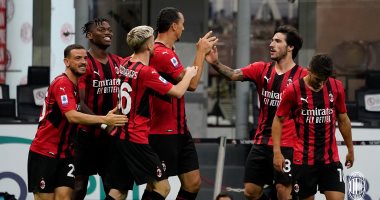 Milan will host a heavy guest against Spezia at 3:00 p.m. today, Saturday, at the "Alberto Pico" stadium, as part of the sixth round of the Italian league competition "Calcio".
Milan is in second place on the table with 13 points, while Spezia is in 17th place with 4 points.
The Rossoneri aspires to achieve victory in order to compete strongly for the lead for the title, while Spezia is suffering from both problems and is in a dangerous position at the bottom, and this will make him make every effort to win.
Milan has played 5 matches in the current season of the Italian League, winning 4 of them and drawing in one match, and has not received any defeat.
Inter Milan collides with Atalanta

In another match, the Giuseppe Meazza Stadium will host an important match between Inter Milan and Atalanta, at 6 pm Cairo time, which will be held in the sixth round matches.
Inter Milan managed to achieve a 3-0 victory over Fiorentina in the last round, to top the table with 13 points, equal with the second Milan.
On the other hand, Atalanta will face a difficult test in front of a stubborn and strong opponent, but is preparing for the meeting with high concentration and full force, in the hope that it will achieve victory in order to enhance its score of points, notably because it is currently ranked fourth on the table with 10 points.