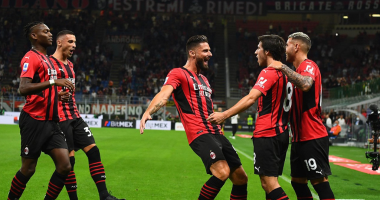 Milan hosts its counterpart Venezia at 9:15 p.m. today, Wednesday, in the fifth round of the Italian Serie A competition, at the "San Siro" stadium.
Milan occupies third place in the Italian league table, with 10 points, with a goal difference from Inter Milan, runner-up, while Napoli leads the standings with 12 points, and Venezia comes in 17th place with 3 points.
Milan coach Stefano Pioli is looking forward to winning over Venezia, in order to continue chasing Napoli and Inter at the top of the Italian league table.
Milan had tied Juventus 1-1 in the top of the fourth round of the Italian League last Sunday.
Milan began its career in the Italian league, by defeating Sampdoria, Cagliari and Lazio, and drawing against the giant Juventus.
On the European side, Milan suffered their first defeat 2-3 against Liverpool, in the first round of the group stage of the Champions League.
Milan suffers from several absences against Venezia, in today's match, as it misses Zlatan Ibrahimovic, Simon Kiir, Olivier Giroud, Calabria, Messias, Timoui Bakayoko and Radi Krunic.
And, according to the Italian newspaper, La Gazzetta dello Sport, Milan defender Simon Kjaer underwent medical tests, which proved that he was safe from a muscle injury, and he will need a passive rest for a few days.
She added that Simon Kjaer will definitely miss Milan's match against Venezia today, and will return to Atletico Madrid's list in the second round of the Champions League group stage.
She continued, "Olivi Giroud, the Chelsea striker, is suffering from back pain, but he has improved relatively and is close to returning to the Rossoneri's training."
The same applies to the Swedish star Zlatan Ibrahimovic, who suffers from an Achilles tendon injury, but will join the training today.
Defender Davide Calabria is also trying to be part of Stefano Pioli's squad during the Atletico Madrid match in the second round of the Champions League.
Messias, the newcomer to Milan, enters this week the final stage of preparations to join the team's training.
For his part, Timoy Bakayoko and Radi Krunic will only return after the next international break.