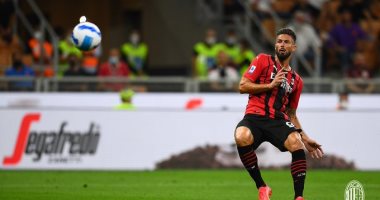 Milan announced today, Friday, that its French star, Olivier Giroud, has recovered from the Corona virus, which he was exposed to at the beginning of this September, so that the Rossoneri can restore the services of the veteran striker before facing Lazio, scheduled for tomorrow, Sunday, in the third round of the Italian League.
The Italian club's statement said: "AC Milan can confirm that the results of Oliver Giroud's test are negative for the Corona virus, and tomorrow the player will undergo a medical examination according to the protocols of the Italian government to return to practicing sports activities."
Giroud starred with Milan by scoring a double in the 4-1 victory over his guest team Cagliari, in the last round of the Calcio.
The Rossoneri star was absent from the list of the French national team during the last pause, during which the roosters played 3 matches in the qualifiers for the 2022 World Cup in Qatar.
Giroud moved to Milan during the last summer transfers, coming from Chelsea for one million euros.
Milan is preparing for a strong confrontation against its guest, Lazio, on Sunday, in the third round of Calcio, and then Liverpool will meet the professional Egyptian star Mohamed Salah, next Wednesday evening at "Anfield", in the first rounds of the Champions League group stage of the current season. 2021 – 2022.