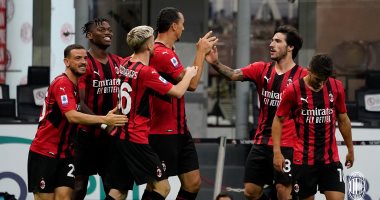 The Italian Milan team, led by coach Stefano Pioli, achieved a perfect start in the Italian league in the current season 2021-2022, after achieving an important victory over its guest Lazio, with two goals without return, in the match that was held between them this evening, Sunday, at the "San Siro" stronghold. The Rossoneri, in the third round of Calcio.
The "Opta" network, which specializes in statistics and records, stated that Milan succeeded in winning the first three matches in the Italian League in two consecutive seasons for the first time in the history of the Calcio.
The Rossoneri won the first three matches they played in the Italian league this season, during which the players scored 7 goals while conceding one goal.
Milan raised its score to 9 points to lead the Italian league standings, ahead of only Napoli, with the same score of points, while Lazio ranked sixth with 6 points.
Milan had won the first two consecutive matches of the Italian league, for the first time since the 2002-2003 season, 2003-2004, under the leadership of Italian coach Carlo Ancelotti. goal in the second round.
Rafael Liao scored the goal for Milan against Lazio in the 45th minute of the match, then the Swedish star Zlatan Ibrahimovic scored the second goal for Milan in the 66th minute of the match, and participated as a substitute in the 60th minute of the match instead of Rafael Liao, where Zlatan scored He reappeared with the Rossoneri after an absence of more than 4 months due to injury.
Milan is preparing for a strong confrontation against Liverpool, the professional in its ranks, the Egyptian star Mohamed Salah, next Wednesday evening at "Anfield", in the first round of the Champions League group stage for the current season 2021-2022.