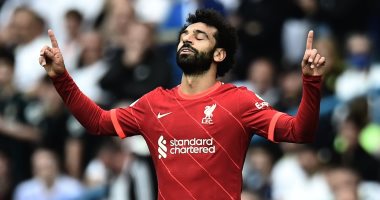 The Egyptian star, Mohamed Salah, the Liverpool striker, expressed his great happiness by scoring his 100th goal in the Premier League, during the victory over Leeds United, with three goals for free, in the match that brought the two teams together yesterday evening, Sunday, at the "Island Road" stadium."As part of the fourth round of English Premier League matches for the 2021-2022 season.
And Mohamed Salah said, in statements to one of the TV channels: "Scoring this many goals with Liverpool is unusual. The most important thing for me is to help the team win."
And about being one of the 5 fastest players to score 100 goals in the English Premier League, he pointed out Mohamed Salah said: "I am very happy, I scored 98 goals with Liverpool, and two goals with Chelsea. I thank my colleagues for what they do for me in creating goals, I still aspire to a lot."
Egyptian star Mohamed Salah scored Liverpool's first goal in the 20th minute, after receiving Trent Alexander-Arnold's cross to put it directly in the goal, bringing his score to 3 goals this season in the Premier League.
Mohamed Salah raised his score to 100 goals in the English Premier League, after his goal against Leeds, and became the fifth fastest player to achieve this achievement in the history of the Premier League, and the second African and the 30th player in general.
With this result, Liverpool's balance rises to 10 points, and it is second in the English Premier League table, with a goal difference from leaders Manchester United and in partnership with Chelsea, while Leeds United's balance stopped at two points in 17th place.