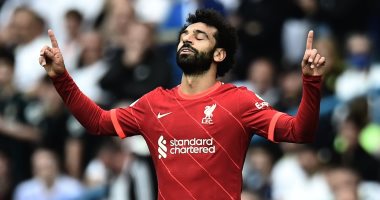 The Egyptian star, Mohamed Salah, the Liverpool player, is preparing to make his 150th appearance in the English Premier League in the Reds shirt, if he participates in the match against Crystal Palace, scheduled to be held at four in the afternoon, tomorrow, Saturday, in the fifth round of the Premier League competition.
Mohamed Salah, according to the official website of the Liverpool club, recorded his appearance in 149 matches with the Reds in the Premier League, where if he participates against Crystal Palace, the Egyptian star will appear in his 150th match in the Liverpool shirt in the competition.
The site added that Mohamed Salah is two goals away from reaching 100 goals in the English Premier League with Liverpool, an achievement that only 12 players have achieved before in the history of the Reds.
Mohamed Salah participated, according to the global "Transfer Market" website, in 149 matches with Liverpool in the Premier League, during which he scored 98 goals and assisted 38 goals.
And the English club, Liverpool, recently celebrated the Egyptian star Mohamed Salah's achievement of his seventy-second goal, during the 100th match at Anfield, during the meeting held last Wednesday night against Milan, Italy, as part of the first round of the group stage of the European Champions League, describing the Egyptian king. It is "mythical and supernatural".
And the Reds account, via Twitter, after the end of the match, said: "My superstition and this Egyptian king… Salah scored his 72nd goal in his 100th match against Anfield."
It is noteworthy that Mohamed Salah recently raised his score to 100 goals in the English Premier League, with 98 goals with Liverpool and two goals with Chelsea, and he became the fifth fastest player to achieve this achievement in the history of the Premier League, in his 162nd match in the competition, and the 30th player in general, and Mohamed Salah is the first An Arab and second African player reaches the 100th goal in the English Premier League.