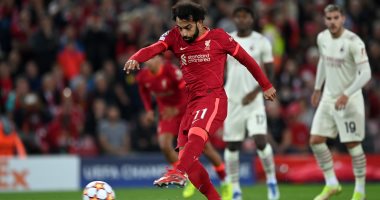 The Egyptian star, Mohamed Salah, continued to shine, and led Liverpool to achieve a precious victory over its guest, Milan, with a score of 3/2, in the exciting match that brought the two teams together at "Anfield" stadium, in the first round of the second group stage of the Champions League group stage..
Mohamed Salah scored Liverpool's second goal in the 49th minute, and missed a penalty kick for the Reds in the 14th minute.
The Egyptian international, Mohamed Salah, is approaching a distinguished record with Liverpool with only one goal, as the next goal that Salah will score will make him the tenth top scorer in the history of Liverpool FC, and equals the number of goals of Liverpool legend Sam Raybould with 130 goals..
And the newspaper "Liverpool Echo" wrote that Mohamed Salah is a king among humans for one moment, and she said, "We knew that Salah is a human being like us and makes mistakes, this is after he missed a penalty kick against Milan after he scored the last 23 kicks and did not put since October 2017 against Huddersfield.".
And the newspaper added, Salah has so far scored 27 goals in 46 Champions League games for Liverpool, and in all competitions at Anfield, he has scored 17 in the last 20 games..
Mohamed Salah scored 29 goals in the Champions League, including 26 goals with Liverpool and 3 goals with Basel.
And Mohamed Salah, with 14 goals, with his goal against Milan, equaled the number of goals of former star Steven Gerrard in the Champions League competition, at Anfield, as the most goalscoring player in the competition over the Reds stronghold.
Mohamed Salah also scored his 100th appearance at Anfield with Liverpool in various competitions, as he participated in scoring 96 goals during the 100 matches, scored 72 goals and provided 24 assists.
Mohamed Salah has played 208 matches with Liverpool in various competitions, since joining from Roma in the summer of 2017, scoring 129 goals and providing 49 assists.