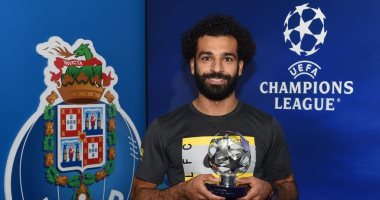 The Egyptian star, Mohamed Salah, expressed his great happiness over the great victory over Porto, 5-1, during the match that brought the two teams together today, Tuesday evening, at the "Dragao" stadium, as part of the second round of the group stage competitions in the Champions League competition for the current season 2021-2022..
Our Egyptian star, Mohamed Salah, who participated from the start of the match, scored a double during the match, to exit from the 65th minute for comfort in preparation for the upcoming Reds matches in the Premier League..
"We were able to play our style and everything went according to our plan," Mohamed Salah said in statements after the match, on the sidelines of receiving the Man of the Match award.
He added: "It was a good win. I am happy to play and score tonight. I don't know what is the secret behind our wonderful superiority over Porto. I think we have to play all our matches at home."
The first goal came in the 18th minute through our Egyptian star, Mohamed Salah, from a good follow-up in front of the goal, with which he achieved many records, before Sadio Mane scored the second goal in the 45th minute..
In the second half, Mohamed Salah scored his second and third goal for his team in the 60th minute, before Roberto Firmino scored a double in the 77th and 81st minutes, ending the match with a 5-1 victory for the Reds..
The formation was as follows: Goalkeeper: Alisson/ Defense line: Milner, Matip, Van Dyck, Robertson/ Midfield: Fabinho, Henderson, Jones/ Attack line: Mohamed Salah, Firmino, Jota.
The Liverpool team had won a deserved victory over AC Milan 3-2 in the first round of the group stage of the Champions League, to take the lead in Group B with 6 points.