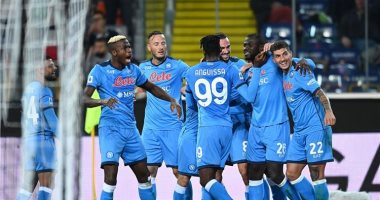 Yesterday, Monday, a limited number of matches were held in various stadiums around the world, which were marked by scoring a number of distinguished goals.
The goals of the two matches, in the stadiums of the world, were as follows:
Spanish league goals
Barcelona 1 x 1 Granada
The Spanish club Barcelona kidnapped a fatal draw against its guest Granada, with a goal for each, in the confrontation that took place between them at the Camp Nou, as part of the fifth round of the Spanish League competition "La Liga" for the current season 2021-2022.
Domingos Duarte scored the goal for Granada in the 2nd minute of the match, then Ronald Aruajo scored the equalizer for Barcelona in the last minute of the match.
With this result, Barcelona raises its score to 8 points to occupy the seventh place in the table of the Spanish League, while Granada comes in the seventeenth place after raising its score to 3 points.
Italian league goals
Udinese 0 x 4 Napoli
Napoli swept its host Udinese by 4-0 in the match that brought them together on Monday evening at the "Alfrioli" stadium in the fourth round of the Italian League for the current season 2021/22.
Napoli's goals were scored by Victor Osimhen (24), Emre Rahmani (35), Kalidou Koulibaly (52) and Hirving Lozano (84) respectively for Napoli.
With this result, Napoli rose to the top of the Italian league standings with 12 points collected from winning its past four matches, becoming the only team that managed to achieve the full mark so far.