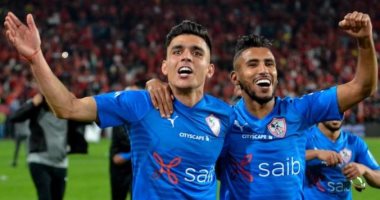 Press reports revealed that Moroccan midfielder Ashraf Bin Sharqi, midfielder of Zamalek, received many offers over the last period, in light of the expiration of his contract with Al-Abyad in June 2022.
Ben Sharqi is one of the main pillars of the Mit Oqba castle, and the white administration wants to renew it, but without setting a penalty clause that allows him to leave easily if he receives an attractive offer. The player will also be talked about modifying his desire for that item that Ben Sharqi wants to be activated after the first year From the new contract, while the Zamalek administration wants it to be after the second year of the new contract, at least.
The Moroccan newspaper, "The National Team", said that Zamalek officials did not stand idly by as the shares of Moroccan international Ashraf bin Sharqi rose, especially that the player had become one of the main pillars of Wahid Halilhodzic, coach of the Moroccan national team, and Zamalek officials are trying to renew the Ben Sharqi contract, which ends in June 2022. .
The newspaper indicated that there is interest from some Gulf clubs, especially in the UAE league, offering fantastic sums to the player, so Zamalek is required to resolve the renewal of Bin Sharqi's contract in order to immunize him against the clubs trying to kidnap him.
Hussein Labib, president of Zamalek Club, had revealed that there was a consensus between the club and player Ashraf bin Sharqi regarding the renewal of the contract, pointing out that there is a single clause that delays the completion of the renewal until now.
Labib said, in statements to On Time Sport 1, that the coach had given the player a leave of absence until September 14, expecting that the renewal of Laban Sharqi would be decided on September 20.