Moroccan press reports revealed today that Pyramids Club is intensifying its negotiations with Ashraf Bin Sharqi, player of Zamalek, in order to contract with him after the end of his contract with the White Castle at the end of next season..
The Moroccan newspaper, Hisport, said that there is a desire from the Pyramids Club to present an attractive offer to Ashraf bin Sharqi and include him in its ranks during the coming period..
The Moroccan newspaper added that the Pyramids administration is seeking to take advantage of the Ben Sharqi crisis with the El-Obeid administration to try to reach an agreement with his agent in order not to renew with Zamalek..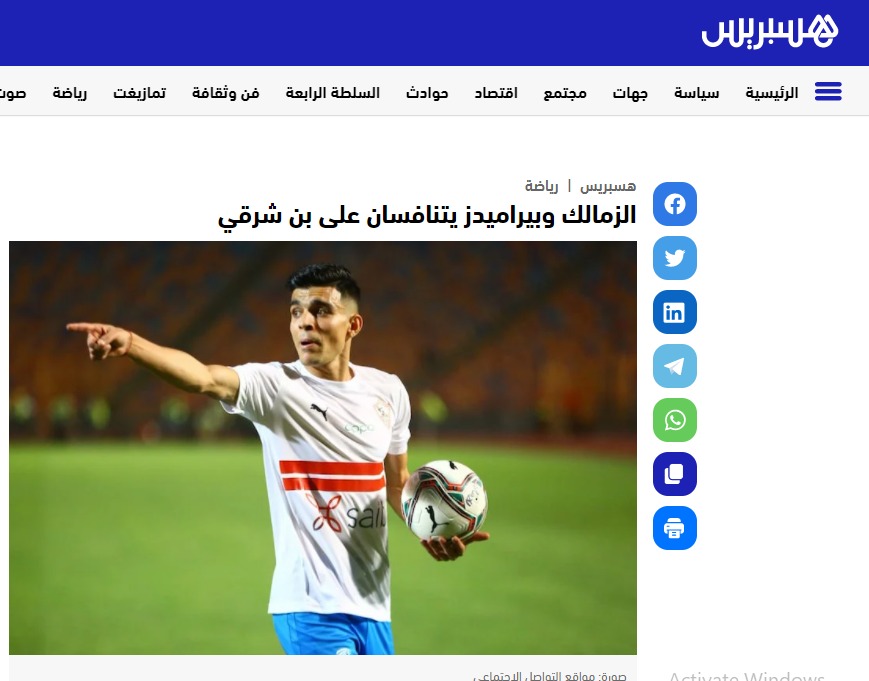 Ben Sharqi
The newspaper pointed out that the management of the Zamalek club is also intensifying its efforts to reach a final agreement with Ashraf bin Sharqi to extend his contract in the coming days, adding that several sessions were held with the player's agent and the player's agent, and the two parties reached an agreement on most of the details related to the new contract. However, some details of the financial return remain unresolved.
She indicated that the reason for the dispute between the Zamalek administration and Bin Sharqi is due to the latter's desire to set a penalty clause of up to half a million dollars, which is rejected by the white administration..
Ashraf Bin Sharqi has the right to sign for any other club next January, because his contract will expire at the end of the next season, that is, six months before the expiration of his contract with "The White Castle, without referring to the club's management, which raises their concerns and forces them to reach a solution before the player signs for any club." else.
It is noteworthy that the fans of the Zamalek club are putting great pressure on the club's management to extend the position of Ben Sharqi, who is considered one of the most prominent players within the club..