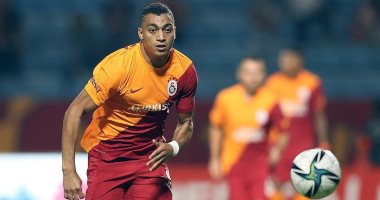 The Turkish professional Galatasaray team, in its ranks, the Egyptian star Mustafa Mohamed, will host the Italian Lazio team at the Turk Telecom Arena at exactly 7:15 pm today, Thursday, Cairo time, in the first round of Group E in the group stage competitions of the European League.
The Turkish team seeks to win the three points of the match, taking advantage of the ground workers and the public, especially since the match is at its home and at the beginning of its career in a difficult group that includes Lokomotiv Moscow of Russia and Marseille of France.
Mustafa Mohamed hopes to get the opportunity to participate today against Lazio in order to achieve a strong start by scoring goals in the European competition to start the brilliance journey again for the current football season, especially after a little delay in scoring goals and returning to brilliance with the beginning of the new season of the Turkish League.
Galatasaray is experiencing volatile periods, as it enters the match against its guest Lazio, after he succeeded in achieving victory in two out of the last 5 matches he played in the last period at the level of all local and continental tournaments, and was subjected to a loss in only one match and fell into a draw in two matches..
While the Lazio team is experiencing good periods and will enter the match against its Turkish host, after it succeeded in winning two out of the last 3 matches it played in the last period in the Italian Football League, and in return, the Lazio team suffered a loss in only one match.
Russia's Lokomotiv Moscow also collides with French rival Marseille at the RZD Arena, within the same iron group.