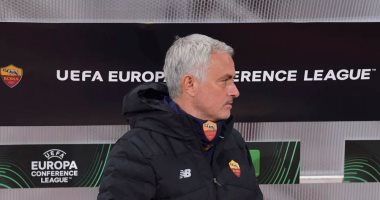 The Portuguese Jose Mourinho praised the Italian team, Roma, on the duo Ebrima Darbo and Chris Smalling, after their 3-0 victory over Zorya Luhansk of Ukraine in the match that was held between them at the "Slaviotik Arena", in the European Conference League after a convincing performance in Ukraine, where, he scored Smalling scored and Darbo assisted in his first start of the season for Stephan El Shaarawy early in the game..
Jose Mourinho said during the press conference after the end of the match: "The result is the most important thing, a few days ago, we dominated the match against another team (Lazio), against a team that looked less than us and we lost.".
Mourinho added: "Today we won, we have six points in the group now and that is the most important thing, maybe we only need five or six more points now in order to qualify, so it's a step forward.".
The Roma coach explained: "There are no injuries and no additional fatigue because we were able to give some players a rest, some of them stayed on the bench and others because they stayed in Rome.".
On Darbo, Mourinho said: "He played really well, he gave the team balance, made the right choices with the ball, made smart decisions in general and did a good job reading defensive moves. I really liked his performance. I wanted to give Amadou Diawara the opportunity to play a few minutes, which is why I chose to take him out, but I was completely satisfied with his performance".
On the return of Chris Smalling: "Yes, since he overcame his injury he was always ready to play, even when he is on the bench he does a good job, obviously we knew that having Gianluca Mancini on the bench would create opportunities for others to play in defence. Good during the match.And of course, it's always great for a defender when he scores too".
Speaking about Empoli's next game in Serie A, Mourinho said: "Yes, of course after a defeat, it is always important to go back and try to win the next game. We succeeded that day, but now it is clear that we want to re-introduce that level in the Italian league and try to beat a team He already has nine points and is playing very well. We will be back in Rome between 2am and 3am tonight (Friday morning) and it would be better if we stay in Trigoria.".
Mourinho concluded his speech: "It's a bit of a sacrifice from my players but it's better for us, we can go to training in the morning and then they can go home.".