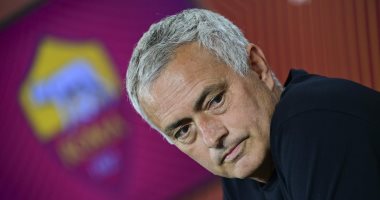 The Portuguese coach, Jose Mourinho, confirmed to the Italian team, Roma, that he made many changes in the formation, in the team's match, tomorrow, Thursday, against its guest, CSKA Sofia, at the beginning of the team's journey in the group stage of the European Conference League, indicating that his team is still in The start of a new project, despite achieving 5 consecutive victories at the beginning of the season.
Roma have won 5 consecutive games in the new season, 3 victories in the Italian League, topping the table with 9 points, and two wins in the European Conference League.
"Of course I will make some changes, but with that we need to keep the team consistent, because we want to progress in this tournament," Mourinho said during the match press conference.
On Roma's consecutive victories since the start of the season: "It's only 5 wins, not 50, we need to maintain a balance, I think the fans are happy now but they should think well about it, we are only two months away from a new project."
And the Portuguese coach continued, saying about Stephan El Shaarawy: "The players are smart, they understand from training what their coaches think of them. El Shaarawy knows that for me he is an important player, he has not started matches yet, but you have not committed to the same team for one season."
"I don't want to lie to you guys and say this competition doesn't interest me, it matters to me, I would like to win it, but we still have a long way to go to get to this point, we need to start winning tomorrow," Mourinho continued.