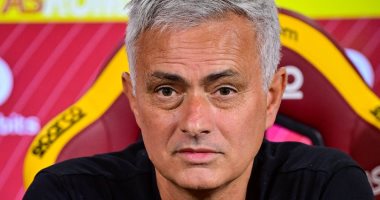 Jose Mourinho, coach of the Italian team, Roma, stressed that his team must turn sadness into motivation because the season is not a fast road, but rather a curve full of curves, after the heavy loss that the Giallorossi suffered 3-2 against Verona in the match that was held last Sunday night.
AS Roma will meet Udinese, scheduled to be held at 9:15 p.m., tomorrow, Thursday, at the "Olympico" stadium, in the fifth round of the Italian Serie A championship, "Calcio", for the current season 2021/22.
Jose Mourinho said during the press conference for the Udinese match: "The season is not a fast road, it is full of curves, it may be a fast road only for Paris Saint-Germain and Bayern Munich, the competition in the Italian League is very strong.".
Mourinho added: "Udinese lost badly against Napoli in the result, but not in the performance because they faced an excellent team."
"Some of the goals came from free kicks, but Udinese is solid, knows how to play, it's a difficult team to play against," the Roma coach explained.".
Mourinho continued: "We lost a game, we didn't play well, we analyzed the match in detail with the players and looked to the future and not the last match that we can no longer win, we lost three points."
Mourinho stressed about the loss of the Hellas Verona match: "We lost, we are sad, but we must remain balanced. and negatives".
Mourinho confirmed: "We are not favourites for anything, just to win the next match, we need to turn sadness into motivation and not sadness into depression, we only lost one game, so what should he do who lost two or three? We make our way calm but ambitious.".
Roma coach noted: "We have to work more, otherwise they will give me three months instead of three years of contract, in 3 months the development of the team is complicated, and you can do it if this is really a unified team."
Mourinho continued: "The problem is not losing a game with the changes I made, I realized we can win or lose, but the problem is the three goals, too many, and from a defensive point of view, we had some problems with Verona.".
And the Roma coach concluded: "I cannot control the players, I cannot control anyone, nor the fans, I can only try to influence those close to me, the players. , but always in balance..