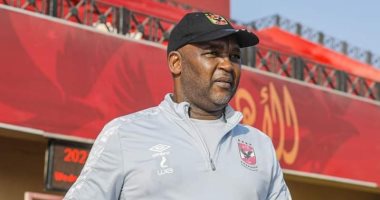 South African Pitso Mosimane, coach of Al-Ahly Club, described the team's fans as difficult because of the constant pressure and the desire to win.
Musimani said in a statement posted on his Instagram page: "There is nothing more difficult than Al-Ahly fans in terms of pressure, I have not seen before and I will not see them in the future, because they love the team and football and always want to win and do not think of anything else. You pay it when you coach Al-Ahly."
Musimani also described Al-Ahly in one word by saying: "Nation Club," adding my own family, my wife, who supported me and helped me make the decision to move to Al-Ahly coach and encourage Real Madrid.
Musimani began training Al-Ahly in October 2020 after the departure of Rene Weiler, and succeeded in leading the team to win many titles such as the African Champions League twice, the African Super Cup and the bronze in the Club World Cup.
He continued about his expectations for Al-Ahly's journey in the Club World Cup, by saying: "Against a Japanese team first, I hope we avoid Chelsea in the semi-finals and face a team from South or North America, and then Chelsea in the final".
Pizzo responded to a question: Do you get nervous before big matches, and how do you deal with it, saying: "I am always nervous before all matches, even before friendlies, thinking about everything that can happen in the match, who will score? How will we play? How are we going to score goals? How do we avoid conceding a net? So I get nervous before every game and I don't think there is a coach who doesn't feel that, this comes through your uncertainty of winning, and that's what I went through in the South African League and the Egyptian League in the past years".
And he answered a question: Have you been exposed to racism from anyone in Egypt? By saying: "No, I have not faced any direct racist insult from anyone, I do not say that there is absolutely no, but we have not faced anything of this kind, whether from our fans or our players, and we have to deal with everything that confronts us and tries to frustrate us, but racism in the world is great and cannot be ignored, And that's why there's a campaign called Black Lives Matter to try to fight it all over the world".
Musimani also spoke during the dialogue about childhood memories and how the world of the round witch began, who are his role models, and his relationship with the fans of the Red Genie, saying: "When I was 11 or 12 there was a player named Vincent McCrotti, Husma Hoxha and the last one was called Tip Tip and he was a very cool player, these are my idols in football in my childhood".
And the Al-Ahly coach continued: "But when I started to follow football differently at an older age, I had other players like Nelson Tiandge and Jomo Sono.".
Musimani added: "I hope that there will be interest in the continent to which I belong, developing stadiums, especially for the clubs that participate in the African Champions League and providing special training grounds for them, some countries have very good stadiums, especially in South Africa, as well as in Tanzania such as Simba Stadium, but they do not have a training ground For the visiting team, and this is the difference between the African Champions League and the Champions League, there is interest in the infrastructure and if we develop it it will benefit African football a lot.".
He explained why he was called "Jingles" by saying: "The name comes from school. I loved a player named Jingles Pereira through his style and the way he passed the ball behind defenders. I was always talking about him, so the name stuck with me through my friends."
Al-Ahly coach concluded: "I started playing football in township through the street and the backyard of the house, but if you ask me on a professional level, that was at the age of eighteen in Jomo Cosmos, but at the age of six and seventeen I was already playing in the first and second divisions.".