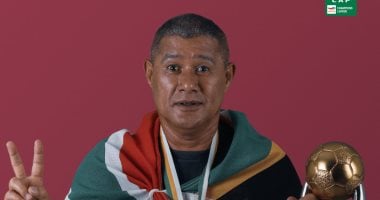 Press reports revealed the next destination of Kevin Johnson after his departure from the technical staff of Al-Ahly Club, where he worked as an assistant coach for the South African coach. The 62-year-old had previously taken over the technical management of several South African clubs, most notably Platinum Stars and Black Leopards.
Al-Ahly coach Kevin Johnson decided to apologize for not continuing in the technical staff of the red team, led by his compatriot Pitso Musimani, after receiving an offer to work as technical director of a South African team, especially after he consulted with Musimani about his desire to return as the first man and was welcomed by the coach of Al-Ahly.
And the newspaper "thesouthafrican" reported in a report that Johnson approached the training of the Orlando Pirates team after he submitted his resignation to manage Al-Ahly club and remained in South Africa and did not return to Cairo again.
Johnson has helped the general coach, his compatriot Pitso Mosimane, the coach, since the beginning of his work with Al-Ahly in October 2020, and they succeeded in winning many championships, most notably the African Champions League twice and the African Super Cup.
Johnson had published a picture with a travel bag next to him, through his official account on the "Instagram" photo and video site, and then Musimani asked the Planning Committee to escalate Sami Kommas to the position of general coach, instead of him.