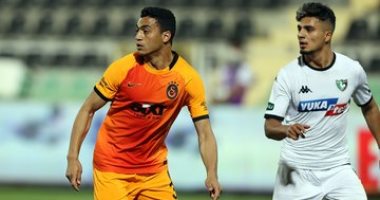 The Egyptian striker, Mostafa Mohamed, spoke about his future with his Turkish team, Galatasaray, after the victory he achieved against its Italian guest, Lazio, with a clean goal, in the meeting that brought the two teams together, Thursday evening, at the "Turk Telecom Arena", in the first round of Group E competitions. European League for the current season 2021-2022.
Mustafa Mohamed said in televised statements after the end of the meeting, saying: "I am happy in Galatasaray, it is a big club, and I love its fans and they love me."
And about not participating mainly with the team, Mustafa Mohamed said: "This is a coach's decision, and I work hard and get tired of training, and God will honor me."
And about his failure to join the Bordeaux team in the last summer Mercato, the Egyptian striker said: "It did not affect the failure of the Bordeaux deal, but this matter gave me a strong motivation."
Galata Saray

Mostafa Mohamed participated in the meeting with Galatasaray, in the last minute of the match, as a substitute for Romanian Cicaldao.
The game's only goal came in the 66th minute of the match, after a fatal mistake by Lazio goalkeeper Thomas Strakosha, who failed to catch the ball and entered the net.
In the same group, the French Marseille drew 1-1 with its host Lokomotiv Moscow, the Turkish Cengiz Under scored the French team's goal, with a penalty kick in the 59th minute, and Faustino Ungorin equalized for the Russian team in the 89th minute.
Galatasaray topped Group E in the European League with 3 points, while Marseille and Lokomotiv Moscow got a point, and Lazio without credit.