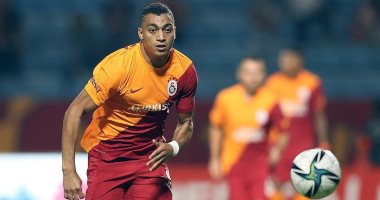 Egyptian international Mustafa Mohamed, a professional in the ranks of Galatasaray, will play a new task with his team today against its guest, Goztepe, in the Turkish Super League competitions, in a match whose first slogan is winning and returning to the path of victories.
The Galatasaray team will host its counterpart Goztepe today, Sunday, in the seventh round of the Turkish League Championship, at its stadium, "Turk Telecom Arena" at 6:00 pm Cairo time.
Galatasaray team occupies the twelfth place in the Turkish Premier League table with 8 points collected from winning two matches, a draw and a loss in the same, scoring 8 goals and receiving 9 so far..
In the last confrontation, Galatasaray fell 3-0 to its host Kayserispor at Kayseri Ataturk Stadium in the sixth round of the Turkish Super League for the current season 2021/2022..
The match witnessed the presence of the Egyptian international, Mostafa Mohamed, in the match from the beginning to the end, as Fateh Tarim, the coach of the team, was instrumental in forming the team..
While the guests, Goztepe, is in the fifteenth place in the Turkish League standings with only 5 points collected from 6 matches, where it won one match, drew in two and lost 3 full matches.
Fatih Tritem, the technical director of the Galatasaray team, seeks to win, taking advantage of the ground and the public, to restore the tone of victories and to improve the position of the late team for the possibility of competing early for the Turkish League title or the golden square from the beginning.
The Turkish coach is expected to rely on the Egyptian international, Mustafa Mohamed, to lead the team's attack, after he played a key role in the last two matches in the local competition.
Meanwhile, Goztepe's team seeks to surprise and try to snatch at least one or three points from the hosts to improve their position and escape from the bottom of the standings.
And Turkish press reports indicated that the Egyptian striker, Mustafa Mohamed, has become outside the accounts of Fatih Tarim, the technical director of the Galatasaray team during the coming period, in light of the player's decline in the level of the player and his absence from scoring since the beginning of the current season..
And the Turkish newspaper, Fanatik, said that Mustafa Mohamed lost his last chance to stay in Galatasaray, after his level declined during the current season, in addition to his absence from scoring in 12 matches..
Mostafa Mohamed joined the ranks of Galatasaray last January on loan from Zamalek Club for $2 million, with the right to buy for $4 million.