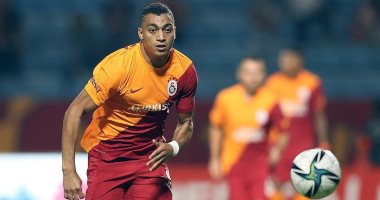 The professional Galatasaray, in its ranks, the Egyptian star Mustafa Mohamed, will play a strong confrontation with his counterpart Alanyaspor at three in the afternoon, Sunday, at the Turk Telekom Arena in the fifth round of the Turkish Football League.
Galatasaray is looking for a new victory in order to continue to compete vigorously for the title of the Turkish League this season, while Mustafa Mohamed hopes to participate in the match in order to prove himself after leaving the accounts of the technical staff led by Fatih Karim during the last period and playing for only a few minutes in the matches, And the last of them was in the Italian Lazio match in the European League, where he participated in the last minute of the match, as a substitute for the Romanian Cicaldao.
The Turkish Galatasaray defeated its Italian guest, Lazio, with a clean goal, in the meeting that brought the two teams together last Thursday evening, at the "Turk Telecom Arena", in the first round of Group E of the European League competition for the current season 2021-2022.
Mustafa Mohamed commented on not participating mainly with the team, saying in media statements after the Lazio match: "This is a coach's decision, and I work hard and work hard in training, and God will honor me."
Mustafa Muhammad added: "I am happy in Galatasaray, it is a big club, and I love its fans and they love me."
Galatasaray seeks to win the match to chase Trabzonspor to the top in the struggle for the top spot in the Turkish League, while Alanyaspor aspires to win the three points of the match and surprise the host.
Galatasaray occupies the seventh place in the Turkish league standings with 8 points, while Alanyaspor is in the twelfth place with 6 points.