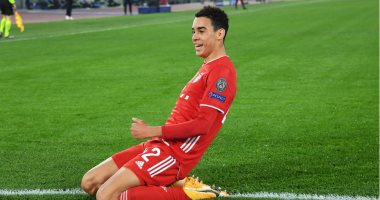 Jamal Musiala, Bayern Munich's young star, was crowned the Bavarian player of the year award last August, after winning the public referendum on the official website of the German champion.
Mosyala won the best player award in August in the ranks of Bayern Munich, after receiving 50% of the total votes of the Bavarian team's fans, after he impressed everyone with his skills and great technique in all the matches in which he participated, ending last month with three goals and a decisive pass.
The 18-year-old star in the best race in Bayern Munich last month beat Polish striker Robert Lewandowski, who won 28% of the fans' votes, and German Thomas Muller, who got 5% of the total votes.
On the other hand, Bayern Munich set many records, after it swept its counterpart Bochum by 7-0 in the match that brought them together on Saturday evening, at the Allianz Arena, in the fifth round of the German Bundesliga competitions for the current season 2021-2022..
And the "Opta" global network specialized in statistics and records, stated that Bayern Munich scored 7 or more goals in a Bundesliga match for the third time since the beginning of the 2016/17 season, as follows: 8 against Hamburg (2016/17), 8 against Schalke (2020/21), 7 v. Bochum (2021/22).
Bayern Munich coach Julian Nagelsmann also led his team to score 20 goals in his first 5 matches with Bayern Munich from the Bundesliga, equaling the record for a new coach in a club after five matches of the tournament, previously achieved by Idris Juncker in 2011 (Bayern Munich) and Ado Latik in 1970 (Bayern Munich).