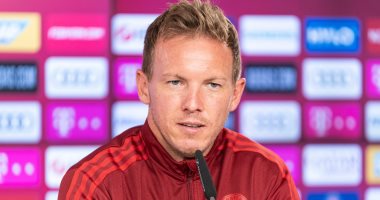 Bayern Munich coach Julian Nagelsmann confirmed that he does not care that there will be jeers in the Leipzig meeting, scheduled for the "Red Bull Arena", at 6:30 pm tomorrow, Saturday, in the fourth round of the German League competition, indicating that He rejects the idea of ​​holding the World Cup every two years.
"Overall, I'm really looking forward to being back there," Nagelsmann said at the match press conference about his return to Leipzig. "We spent two very good years in Leipzig and the coaching staff are happy to be back too. We know our way well, we just have to take a different turn into the locker room." Away".
And about Serge Gnabry's recent brilliance with the German national team, Nagelsmann noted, "Of course, he took steps forward, at that time at Hoffenheim he was already an exceptional player, he decided a lot of games for us, he had a talent for moving in spaces and a good finish with his two feet."
The coach continued, "Gnabry He has weaknesses when he takes a lot of time to think, he has everything to confirm his performance before and during the international break, I don't see any reason why he should do less than he has done in the past few weeks.".
And about the possibility of sharing Sabitzer, the coach explained: "He hasn't trained with us a lot, I think he can adapt to both options, whether from the bench or from the start, he can be a great strength for us from the bench.".
And about the possibility of holding the World Cup Every two years, Nagelsmann said: "I don't agree with that, the plans are getting more difficult, we have to keep this within a reasonable framework, the players must rest and now the pressure is increasing, the more games will not make it better, quite the opposite."
AndOn the condition of the Koeman and Tolisso duo, Nagelsmann said: "Tolisso will not play tomorrow and against Barcelona, ​​we made the decision to slowly rehabilitate him. play all matches.
and aboutThe possibility of hearing boos from the crowd, Nagelsmann said: "As a team, we achieved many things in two years in Leipzig and brought a good spirit to the club, we tried to return the money we earned, I have high expectations for this match and I don't care if some people whistle.".
Regarding the duo Obamecano and Thomas Muller, the coach explained: "Oba and Thomas are fit and are two options for the starting lineup, they have trained well."
On the faltering start for Leipzig, Nagelsmann said: "I don't think anyone needs any sympathy from me, Leipzig has a great squad and they have signed a good coach, they are sure that they will be back on the right track, and they do not need any help from me.".
Bayern Munich enters the meeting with high spirits, after the last victory against Hertha Berlin, with five without a response, to be in third place in the table with 7 points, as Bayern won two games and drew one.