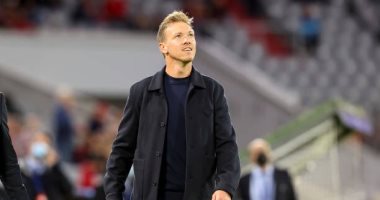 Bayern Munich coach Julian Nagelsmann expressed his happiness with the team's victory over Dinamo Kyiv of Ukraine 5-0 in the match that took place between them on Wednesday evening at the "Allianz Arena", in the second round of the group stage competitions in the Champions League. Europe for the current season 2021/2022.
After the match, Nagelsmann said: "I am happy with the performance, of course, the opponents had two good chances but it didn't end well. But we scored some great goals."
Nagelsmann added: "The most important scene for me was when Obamecano cleared the ball in the 89th minute and celebrated that we kept a clean sheet..
Bayern Munich
Nagelsmann continued, "For everyone, for every footballer, it is important to be free in his mind. It is good that Leroy Sane is given this freedom. For me he plays more centrally than last season. He has space there. He is an outstanding player with a great personality.".
The Bayern coach continued: "He can score such goals, and he also has this style of shooting, but in this case he retreated, and he himself admitted that the goal was unintentional.".
Nagelsmann confirmed: "We both know that we can play better and we want to, even when we were leading 5-0, we wanted to score more.".
Bayern Munich
And about the chants of "Zolh Zuleh" after the game in the stands? Nagelsmann said: "It's his family from Frankfurt. I am happy when the fans cheer in support of the players and not whistle against them.".
Bayern Munich coach commented on Barcelona's triple loss: "Yes, I saw this result, Benfica already played in Kiev in a dominant style, but there was a problem with scoring the goal, but they changed it today and scored 3 goals.".
"Developing that greed in the players means a lot to me," Nagelsmann explained. "The boys did a great job.".
Bayern Munich scored the goals of the Polish star Robert Lewandowski (two goals) in the 12th minute from a penalty kick, and 27 from assisted star Thomas Muller, to raise his score to 77 goals in the history of the Champions League. 68, 74, and 87, respectively.
With this result, Bayern Munich continued to lead the standings of Group E in the Champions League with 6 points collected from the victory over Barcelona last round in the "Camp Nou" before returning and winning at the expense of Dynamo Kiev at Allianz Arena on Wednesday evening.