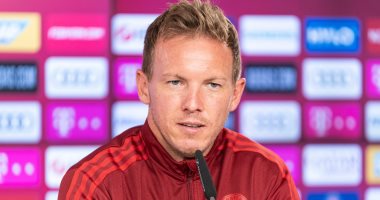 Bayern Munich coach Julian Nagelsmann confirmed his team's readiness to face Barcelona, ​​tomorrow, Tuesday, at Camp Nou, in the first round of the Champions League group stage, stressing the readiness of the team's striker, Robert Lewandowski..
Nagelsmann added in the match press conference: "Lewandowski is in a good position and will be ready, and Serge Gnabry will travel with us, but Tolisso will not.".
The Bayern coach continued: "We have not decided our squad yet, there is no reason to change the defense because of our performance, everyone in our list has the opportunity to participate in the starting lineup."
He continued about the changes that occurred in Barcelona after Messi, saying: "I cannot say whether Barcelona is better or worse now, but I would like to say that they are different. We are ready for anything. I do not think Barcelona is worse now. The future will show whether they have become better, But we definitely want to score three points.".
The Bavarian coach continued his speech: "It will be difficult, but we are really happy to play against a traditional club in a stadium full of history in a beautiful city. If we talk about the statistics, Barcelona 3-5-2 plan when he played in it, they had better results.".
Nagelsmann added: "The Champions League is the most desirable title in European football and therefore for us as well, all the players want to win the title again.".
And about the 2-8 match, he said: "I think they will be a completely different team, I don't know worse or better. Barcelona no longer has the individuality that he had with Messi. The team was definitely amazing with Leo Messi, but they have players who can get out of Leo's shadow, for example. Example: Frenkie de Jong and Pedri.
In response to a question, has Barcelona lost its luster? "I think it's a team that can play for the title," he said. "Barcelona still has a certain charisma even if there is definitely some background noise affecting the club's image. I think Barcelona can compete for the championship."
The Bayern coach concluded his statements: "It is good to have spectators in the stadium again, no player will worry that the sound will be too loud. There are one or two clubs in Europe where the sound is exceptionally loud, perhaps more against Besiktas.".