The fans of the Naples team ignited the atmosphere of the Juventus clash, scheduled for tomorrow, Saturday, at six in the evening, at the Diego Armando Maradona stadium, at the top of the third round of the Italian league matches for the current season.
A picture was circulated on social media, with Naples fans placing a banner on the walls of the team's stadium, "Diego Armando Maradona", reading: "The worst virus is Juventus."
The Napoli and Juventus confrontation is one of the strongest Italian league matches, in light of the intense hostility between the south and the north in Italy, and the two teams' matches always witness exciting events, both on and off the field.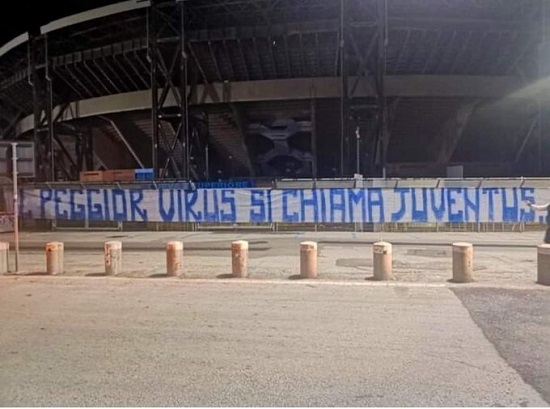 Naples fans banner
The Italian South team occupies sixth place in the Italian league table, with 6 points, while Juventus comes in 12th place with one point.
Napoli surpasses Juventus in the history of the confrontations, which brought them together at the stadium of the first, which was recently named after the late Argentine legend "Diego Armando Maradona", where 76 matches were held on the grounds of the "Diego Armando Maradona" stadium, throughout history in the Italian League, achieved Napoli has 25 victories, compared to 23 for Juventus, and the tie ended in 28 matches. Al Janoub scored 93 goals, while Juve scored 88 goals.
The tie was settled by 2-2, as a result of the first match between Napoli and Juventus, which dates back to the 1929-1930 season, in the eighth round of the Italian League.