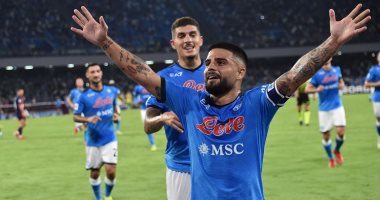 Napoli succeeded in achieving the full mark in the Italian League during the current season 2021-2022, after reaching its sixth successive victory, at the expense of its guest team Cagliari, with a score of 2-0, in the match that brought the two teams together at the "Diego Armando Maradona" stadium, in the matches of the round. Sixth Calcio.
The Opta network, which specializes in monitoring statistics, said that Napoli won during its first 6 matches in the Italian League for the second time in its history, after the 2017-2018 season, during which it won the first 8 matches.
The Partinobi team won the first 6 matches against: Venezia, Genoa, Juventus, Udinese, Sampdoria and finally Cagliari, to sit at the top of the Italian League with 18 points, two points ahead of Milan, the runner-up.
Naples vs Cagliari

The Italian team Napoli achieved a precious victory over its guest Cagliari, with two goals without return, in the confrontation that took place between them on Sunday evening, at the "Diego Armando Maradona" stadium, as part of the sixth round of the Italian League competition for the current season 2021-2022.
Victor Osimhen scored the first goal for Napoli in the 11th minute of the match, then Lorenzo Insigne added the second goal for the South team through a penalty kick in the 57th minute of the match.
The Naples club was keen to honor the captain of the team, Lorenzo Insigne, on the occasion of reaching the 400th match in his career with the South team in all competitions.
Naples club officials presented a commemorative shirt to Captain Insigne bearing the 400th number, which is the number of his participation with the Italian team in various tournaments, before the start of the Naples match and its guest Cagliari.