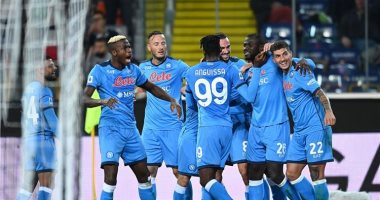 Napoli hosts Spartak Moscow at 7:15 pm today, Thursday, in the second round of Group C of the European League this season 2021-2022, at the Diego Amando Maradona stadium.
Napoli vs Spartak Moscow match
Napoli is ranked third in the European League, with one point, behind the leaders Lega Warsaw with 3 points, while Leicester City comes third with one point, and finally Spartak Moscow is without points.
The Napoli team, under the leadership of Luciano Spalletti, opened the European League, with an exciting draw against Leicester City 2-2 at the "King Power" stadium, last September 15.
The Napoli team is looking to take advantage of the ground factor and the public, in order to achieve a victory over Spartak Moscow, to compete with Lega Warsaw at the top of the group, as the latter meets Leicester City in the same round at the same time.
The Napoli team offers a stable technical performance at the local level, as it has achieved 6 consecutive victories in the Italian League competition so far, and is at the top of the Calcio table with 18 points with the full mark, and comes behind Milan with 16 points, then Inter in third place with 14 points.
Napoli won its first 6 matches in the Italian League for the second time in its history, after the 2017-2018 season, during which it won its first 8 matches.
In the event that Napoli continues with this distinguished performance, there will be a great opportunity for the sons of Al Janoub to compete for the Italian league title this season.