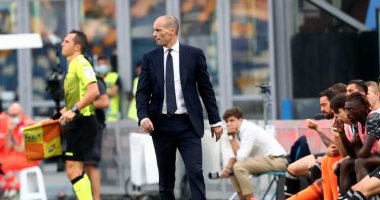 Massimiliano Allegri, coach of Juventus, confirmed that he does not blame his players for anything after the 2-1 defeat he received from his host Napoli, and that there is plenty of time to change the current situation in the team.
Allegri spoke after the end of the match, saying: "I can't blame my players for anything this evening, we did a bad performance against Empoli, but today unfortunately we paid the price for the mistakes."
He added: "We were not good technically and we lost the ball several times in the second half. Napoli played very well, but in football when you don't win, you can't help but shut up and work hard."
And he continued: "I saw giant steps forward, the players did everything they could this evening, but there are moments during the season when the ball comes in and others when it does not happen, we conceded the equalizer and then this second goal, there are many positives from the players as well."
And he added: "I hope we can start the Champions League in a better way than the Serie A season, at the moment we are paying a heavy price for every single mistake, but these moments can happen in football.
Napoli vs Juventus
Juventus ended the first half of the match with a goal scored by Spanish striker Alvaro Morata in the tenth minute of the match, after he took advantage of the error of the Greek Manolas, the defender of Naples, and hit the ball over the goalkeeper in a distinctive way.
His goal in Naples is the second fastest goal scored by Morata in the Italian league, after his goal against Chievo Verona after 6 minutes in January 2016.
In the second half, Matteo Politano scored the equalizer for Napoli in the 57th minute, after following a rebound from Szesni, the Juve goalkeeper, to put it in the net.
Strong Senegalese defender Kalidou Coulibaly added Partenobi's second goal in the 85th minute of the match, after taking advantage of a rebound from goalkeeper Chesney.
Napoli topped the Italian league table with 9 points, while Juventus' balance stopped at one point in the fourteenth place.