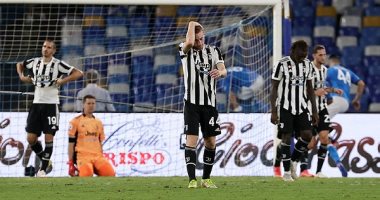 Juventus, led by its technical director Massimiliano Allegri, continued its disastrous results at the beginning of the team's journey in the Italian League during the current season 2021-2022, after receiving the second defeat during the first 3 rounds of the competition's life, in front of its host Napoli, with a score of 1-2, in the match that brought the two teams together on Saturday evening. At the "Diego Armando Maradona" stadium, at the top of the third round of Serie A matches.
The "Opta" network, which specializes in monitoring statistics, stated that Juventus failed to win during the first 3 rounds of the Italian League, for the first time since the 2015-2016 season, and the second in the last 52 seasons of the life of the Calcio.
The old lady's team started the new season of the Scudetto with a 1-1 draw with Udinese, then lost to Empoli with a score of 1-0, and finally against Napoli with a score of 2-1.
Napoli vs Juventus
Juventus ended the first half of the match with a goal scored by Spanish striker Alvaro Morata in the tenth minute of the match, after he took advantage of the error of the Greek Manolas, the defender of Naples, and hit the ball over the goalkeeper in a distinctive way.
His goal in Naples is the second fastest goal scored by Morata in the Italian league, after his goal against Chievo Verona after 6 minutes in January 2016.
In the second half, Matteo Politano scored the equalizer for Napoli in the 57th minute, after following a rebound from Szesni, the Juve goalkeeper, to put it in the net.
Strong Senegalese defender Kalidou Coulibaly added Partenobi's second goal in the 85th minute of the match, after taking advantage of a rebound from goalkeeper Chesney.
Napoli topped the Italian league table with 9 points, while Juventus' balance stopped at one point in the fourteenth place.