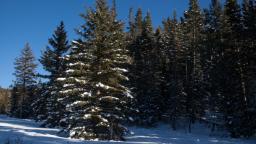 Over 75 national forests in the US allow visitors to cut their own Christmas tree, from Olympic National Forest in Washington state to Ocala National Forest in Florida. They're not all home to evergreen firs, but their unique tree species make fine Christmas displays.
It's healthy to thin forests of some smaller trees. With fewer trees, there's less competition for sunlight and other resources and more room for the forest's flora to grow.
After you've gotten your tree, secure it on top of your vehicle or in a truck bed, and make sure to display your Christmas tree permit while you're in the forest.