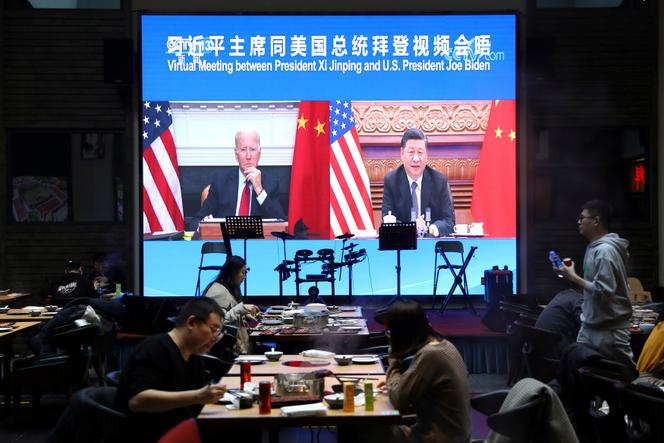 To analyse. Is Xi Jinping's march towards a third term from 2022 enough to make him a "new Mao"? Are the tensions between the United States and China the sign of a "new cold war"? Tempting, these shortcuts are misleading, and therefore dangerous, because they offer outdated interpretations.
Certainly, by putting an end, in 2018, to the limit of two presidential terms established in 1982 by Deng Xiaoping to avoid any imperial drift of power, Xi Jinping is walking in Mao's footsteps. Another characteristic shared by the two leaders is the cult of the personality to which he is the object. Ultimately, one could almost say that Xi Jinping exercises power in an even more autocratic way than Mao. At least he had to deal with his irremovable prime minister, Zhou Enlai, especially in foreign policy. On the other hand, one would look in vain for an important decision which would bear the mark of Li Keqiang, Prime Minister since 2013.
Read also
Article reserved for our subscribers

Between China and the United States, escalating tensions
But Mao Zedong was a revolutionary, enemy of capitalism and staunch supporter of the class struggle, a populist who did not hesitate to mobilize the masses against the elites and fuel chaos to stay in power, as he has proven. by launching the Cultural Revolution (1966-1976).
The elite preferred to the masses
None of this with Xi Jinping. Man is certainly a nationalist autocrat, but nothing is more foreign to him than the class struggle. Chaos revels him. In the resolution on "The major achievements and the historical record of the hundred years of the Party's struggle", published on November 16, a few days after its adoption by the Plenum of the Central Committee of the Communist Party of China, the Cultural Revolution is described as "Disaster". The Communist Party is an increasingly elitist organization and proud of it. Mao had closed the universities, Xi Jinping dreams on the contrary of making the Chinese a people of engineers and scientists. He himself does not hesitate to impose training sessions on members of the Political Bureau on subjects as difficult as quantum physics.
Read also
Article reserved for our subscribers

Xi Jinping has a clear path to stay in power
Moreover, the explicit aim of the "Common prosperity", its new economic compass, is to enable everyone to get rich. Aware that the country will no longer experience double-digit growth and that the social elevator is already working less well, this Marxist takes very seriously a rise in populism that would result from the increase in inequalities in China. The Party's resolution qualifies the social stability that the country has experienced in recent years as "Miraculous ».
You have 54.96% of this article to read. The rest is for subscribers only.