Like many couples last year, Ben and Malory Landheer were forced to cancel their planned wedding and opt for a smaller, coronavirus-friendly ceremony instead. 
Though the pandemic ruined their plans, it also spurred the Charlotte, North Carolina couple to make some huge life changes, namely leaving their jobs, their apartment and their city to travel across the country in a van. 
"We both got COVID, our wedding got cancelled, our jobs intensified and we knew we didn't want to live in Charlotte forever," Malory, 25, told SWNS. "It was a lot of things happening all at once, and we wanted to get back to basics."
CDC LOWERS COVID-19 RISK ALERT FOR CRUISE TRAVELERS
"Last August, we were just kind of playing around with the idea," Malory added. "Ben had sold his house, so we started off our marriage with a chunk of change. It started as a joke and it ended up being serious."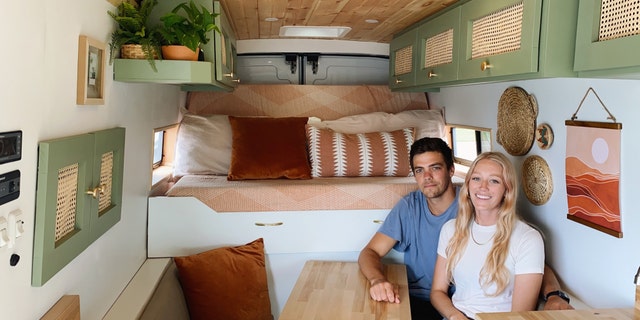 ADVERTISEMENT
The 70-square-foot van now has a queen-size mattress that turns into a futon during the day, as well as running water, a toilet and a stove.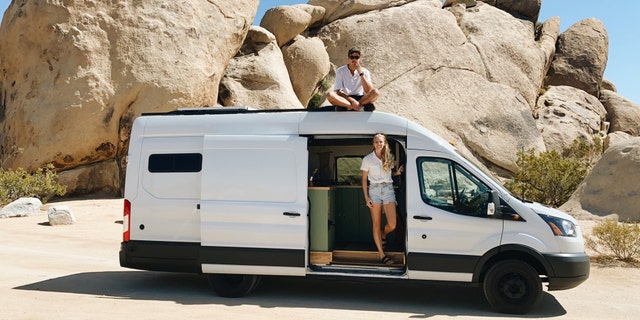 The one thing the van doesn't have is a shower — but the couple gets around that problem by showering at the closest Planet Fitness, where Malory has a membership.
"We would rather have more space in our van than a shower," Ben said.
CLICK HERE TO GET THE FOX NEWS APP 
The Landheers set out to travel the country in their new home in March 2021, according to SWNS.
So far, the Landheers have traveled to the Florida Keys, Louisiana, Texas, New Mexico, Arizona and California.