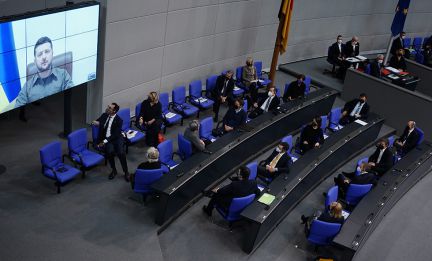 Zelensky asks Germany to tear down the "wall" between peace and conflict in Europe
Ukrainian President Volodymyr Zelensky has asked German Chancellor Olaf Scholz for help in stopping the war in his country during a live speech broadcast at the start of the Parliament session. Zelenski, who has been received with applause from some deputies standing in the hemicycle of the Bundestag, has warned that "a new Berlin wall" is being built in Europe that separates the oppressed states from the free states. His country, he said, does not want to be on the side of the wall where "freedom is lacking."
In addition to thanking Germany for its help, the Ukrainian president has also made several accusations against German politicians, such as being late with sanctions to stop the war. He has also referred to the controversial Nord Stream 2 gas pipeline, built but without permission to operate, and has disgraced the German leaders who have put economic interests first during the planning of this infrastructure designed to transport gas directly to Germany from Russia without going through Ukraine. Zelensky has said that the pipeline was part of Moscow's preparations for war.
The Ukrainian president has assured that with each new bomb that Russia drops on Ukrainian territory, the wall that intends to isolate Ukraine will continue to be built. The West's "doubts" about his country's desire to join the EU and NATO are other "stones" in that wall, he added. The leader, who began his speech a few minutes later than expected due to the bombings in kyiv, quoted Ronald Reagan, "actor and president" of the United States, in his appeal to the German chancellor: "I also say : Mr. Scholz, destroy this wall."
The words of Zelenski, who yesterday also paraphrased Martin Luther King in his speech before the United States Congress, recall those that Reagan pronounced in June 1987 before some 30,000 people in Berlin, when he said: "Secretary General Gorbachev: if you are looking for peace, prosperity for the Soviet Union and for Eastern Europe, if you pursue liberalization, come to this door, open it, tear down this wall".
"Russia constantly bombs us, destroys everything we have built," said Zelensky, who recalled that the Russian forces do not distinguish between civilian and military targets. He has pointed out that thousands of Ukrainians have fallen, including many children. "The occupiers have killed 108 children in the middle of Europe, in the 21st century", he told the deputies, who also rose to applaud him at the end of his speech. Report from Berlin Elena G. Sevillano.
In the photograph that precedes these paragraphs, which is from Clemenis Bilanfrom Efe, Zelenski speaks before the Bundestag by videoconference.