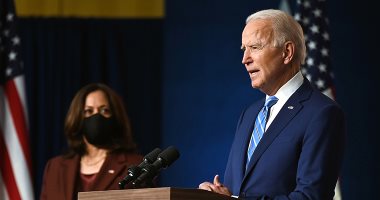 The American magazine "Newsweek" said that the celebrations for the inauguration of the President-elect, Joe Biden, next month have been severely curtailed with the continuing spread of the Coronavirus pandemic nationwide, as the organizers have limited the allocation of tickets to members of Congress and one guest each..
A bipartisan joint congressional committee is conducting the inauguration(JCCIC) , A group of House and Senate leaders who oversee the official swearing in, usually distribute 200,000 tickets through the House and Senate offices for distribution to the voters who fill the National Mall during the ceremony. It puts the new maximum attendance closer to 1,200 – roughly the size of a State of the Union address, although the event is held outside on the steps of the Capitol rather than the cramped Congress hall..
The chairman saidJCCIC Senator Roy Blunt (Republican), the significant reduction in the swearing-in ceremony for President-elect Joe Biden, scheduled for January 20, was "in consultation with various public health and medicine experts", as Biden's inaugural team, due to the ongoing pandemic, the public health crisis has caused more deaths. Of 304,000 people in the US this year are depleting health care systems across the country.
"We are also working to enhance opportunities for viewing the festivities online, in addition to traditional national televised broadcasts," Blunt said in a statement announcing the new plans on Wednesday.
Tickets and memorial programs will be available later for voters who are unable to attend in person.
"Historically, President-elect Biden and Vice President-elect Harris have been elected and we know that many Americans would like to attend the inauguration in person. At the same time, safety must be our top priority," said Senator Amy Klobuchar, a Democratic member of the Joint Inauguration Committee.
President Donald Trump, who has not conceded the election to Biden and often boasted of the turnout at his inauguration ceremony, has not said whether he will attend the inauguration or meet Biden, as usual, and he thinks it is unlikely.