Neymar da Silva, the French star of Paris Saint-Germain, topped the line-up of the official Brazil team to face its host Chile, scheduled for 3:00 in the morning, Friday, which will be hosted by the stadium "Monmental David Orlano", in the capital, Santiago, in the matches of the ninth round of the South American qualifiers. for the 2022 World Cup Finals.
The star Neymar leads the attack of the Brazilian national team against Chile, along with the young star of Real Madrid, Vinicius Junior, in addition to Gabi Jules.
Brazil leads the qualifiers table, which includes 10 teams with 18 points, from winning all the previous six matches, 6 points ahead of Ecuador, who is second with 12 points, equal with Argentina, third on goal difference, while Chile is in seventh place with a score 6 points.
The Brazilian national team will start the match with the following formation:
Goalkeeper: Weaverton.
Defense: Danilo, Sandro, Marquinhos, Militao.
Midfield: Casemiro, Bruno, Paqueta.
Forwards: Vinicius Jr., Neymar, Gabi Jules.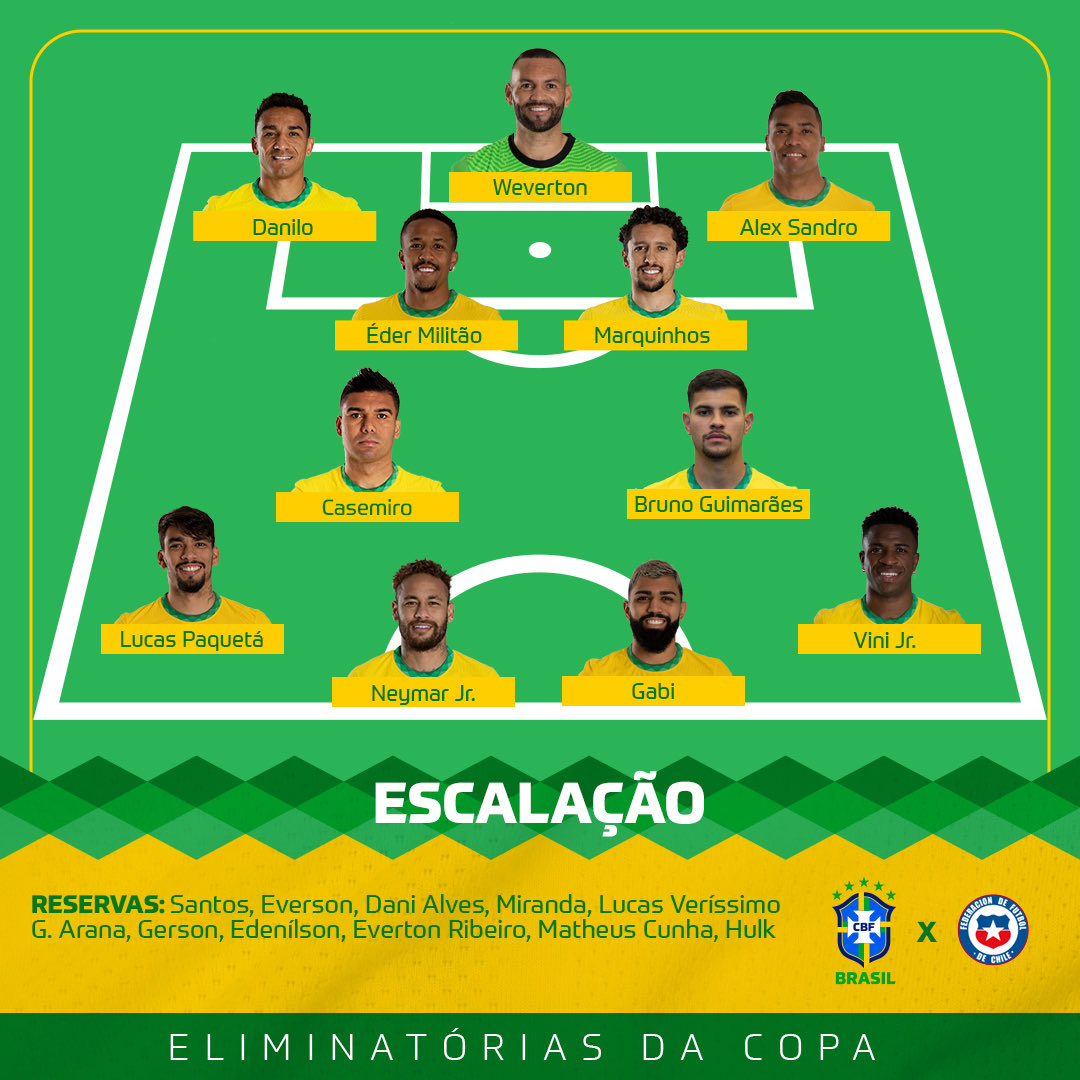 Brazil formation
Tite, the coach of the Brazilian national team, had chosen 9 new players in the list of the "Seleção" team, to play 3 matches in the South American qualifiers for the World Cup finals, in His alternate planTo solve the crisis of players who were banned from English Premier League clubs to play qualifying matches.
The Premier League clubs did not allow their players who are in the countries of the red list, to participate in the World Cup qualifiers during the current international break, due to the need for them to remain in quarantine for a period of 10 days after returning to England, despite the appeal of the civil federations and the International Football Association, excluding players from the rules of sanitary isolation. .
Brazil will face Chile on the first of September, then meet with Argentina on the fourth of the same month, and conclude its matches against Peru on September 8.
Tite chose 9 new players, after the English Premier League players could not join, and the number of them are 9 as well, and they are: Alisson Becker (Liverpool) – Ederson Moraes (Manchester City, England) – Thiago Silva (Chelsea, England) – Fabinho (Liverpool) – Roberto Firmino ( Liverpool) – Richarlison (Everton, England) – Rafinha (Leeds United, England) – Gabriel Jesus (Manchester City).
As for the Chilean team, led by Uruguayan coach Martin Lasarte, former Al-Ahly coach, Alexis Sanchez, Inter Milan striker, will be absent due to injury.
The International Football Association "FIFA" had announced the holding of two additional rounds of the 2022 World Cup qualifiers for the South American continent, during the international break in the months of September and next October, and the two rounds that were supposed to be held last March (the fifth and sixth), were postponed. due to the Corona virus crisis.