Neymar, the French player of Paris Saint-Germain, topped the line-up of the Brazilian national team, to face its guest, Peru, at 2:30 in the morning, at the Arena Pernambuco in Recife, as part of the tenth round of the South American qualifiers for the 2022 World Cup. .
The Brazilian national team enters tonight's match, and is at the top of the qualifiers with 21 points, after winning the sum of its previous seven matches, while the Peruvian team is in seventh place with 8 points.
The Brazilian national team will start the match with the following formation:

Goalkeeper: Weaverton.
Defense: Militao, Danilo, Sandro, Verissimo.
Midfield: Casemiro, Gerson, Paqueta.
Forwards: Neymar, Gabriel Barbosa, Everton Ribeiro.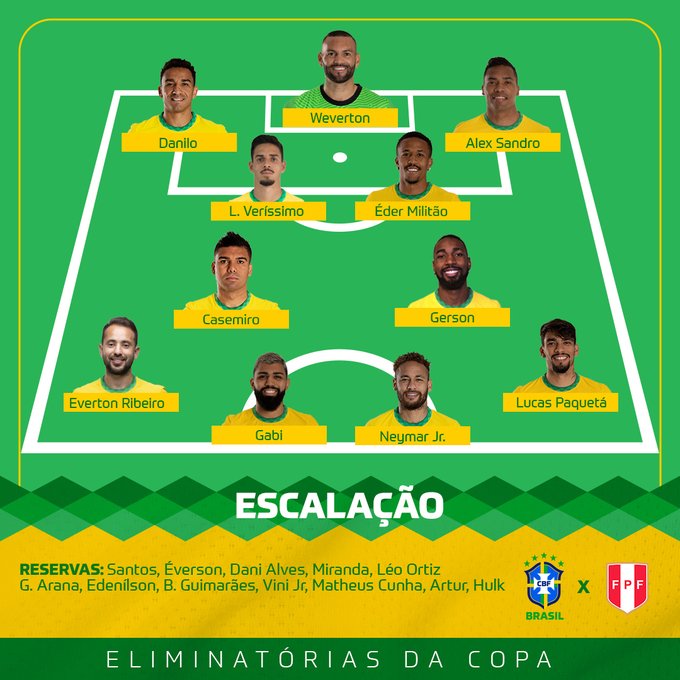 Brazil formation
The Brazil national team match against its Argentine rival, which was scheduled to be held last Sunday, was canceled due to the union of a number of officials in the Brazilian Ministry of Health, the match stadium, to remove the Argentine team's quartet coming from Britain due to sanitary isolation procedures.
The South American Football Confederation (CONMEBOL) issued an official statement on the crisis in the confrontation between the Brazilian national team and its Argentine guest. In his statement, "By the decision of the match referee, the match organized by FIFA between Brazil and Argentina for the World Cup qualifiers was suspended."
The statement added: "The referee and the match observer will submit a report to the FIFA Disciplinary Committee, which will determine the steps to be followed. These procedures strictly comply with the current regulations," explaining, "The World Cup qualifiers are a competition belonging to FIFA. All decisions related to its organization and development are made by it."
The Brazilian national team suffers from wholesale absences, most notably the nine players who play in the English Premier League, after the Premier League refused to allow international players to play matches on the international agenda in countries outside the red list, otherwise they will have to spend a 10-day isolation period after their return from participating in the matches.
The Russian Zenit duo, striker Malcom and Claudinho, are also absent, after the Russian club's management refused their continuation in the Seleção team.
As for the Peruvian team, it seeks to win despite the difficulty of the task, in order to advance in the standings, to qualify for the 2022 World Cup, after returning to participate in the last World Cup 2018 after a long absence.