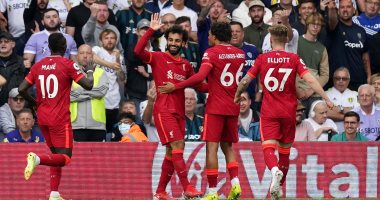 The professional Liverpool team will host Egyptian star Mohamed Salah, his rival Crystal Palace, in the confrontation scheduled to take place at 4:00 pm on Saturday, in the fifth round of the English Premier League competition, "Premier League".
And the official website of the Liverpool club published the numbers and statistics of the match between Liverpool and Crystal Palace, the most prominent of which were as follows:
24 matches were held between Liverpool and Crystal Palace in the English Premier League, 88 goals were scored, at a rate of 3.67 goals per match, and Liverpool scored 60 goals of them and scored in all matches except for two matches.
Sadio Mane is one goal away from becoming the 18th player in Liverpool's history to score 100 goals for the club in all competitions.
Mane has scored in eight consecutive Premier League games against Palace, and if he adds to his goals against Crystal Palace at Anfield, he will become the first player in Premier League history to do so in nine consecutive Premier League games against the same team.
Joel Matip and Virgil van Dijk will play their 100th Premier League game for the Reds if they are against Crystal Palace.
Liverpool will achieve their 350th Premier League victory at Anfield if they beat Crystal Palace.
Jurgen Klopp has won more Premier League matches against Palace (10) than he has against any other team.
If Jordan Henderson participates against Crystal Palace, he will lead Liverpool for the 200th time in his history with the club, and he will become the seventh captain in the history of the Reds to achieve this feat.