Former US President Barack Obama issued a statement condemning the storming of supporters of outgoing President Donald Trump into the US Congress, in an attempt to obstruct the approval of President-elect Joe Biden's victory. He said in the statement, which he published on his Twitter account: "What happened in a building The Capitol Wednesday night is disgraceful but "not surprising."".
He continued, "History will rightly remember that the violence that took place in the Capitol building, which took place at the instigation of the current president, who continued to lie about the result of the legal elections without foundation .. that history will remember this moment as a disgrace and a disgrace to our nation .. But we will deceive ourselves if we deal with it." For what happened as a complete surprise".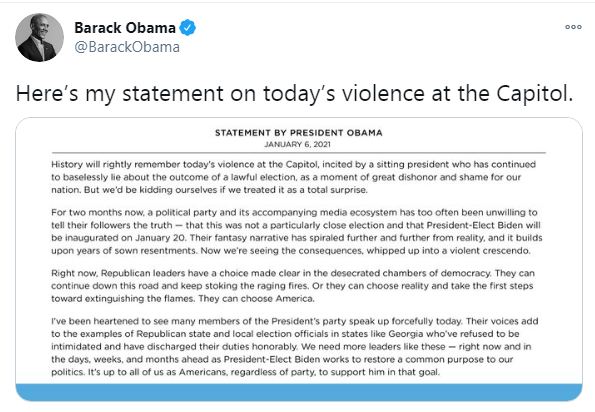 Obama
He added, "Two months ago until now, the political party and the media system accompanying it were often unwilling to inform their followers of the truth that President-elect Biden would be inaugurated on January 20 … which led to an escalation of events more and more from reality .. Now we are witnessing." The consequences turn into a violent escalation. "
He continued, "At the moment, Republican leaders have a clear choice in the chambers of democracy .. They can continue on this path and continue fueling the raging fires, or they can choose reality and take the first steps towards extinguishing the fires .. They can choose America."
He concluded his statement by saying, "I was relieved to see so many members of the President's party speaking forcefully today. Their voices add to the examples of Republican and local election officials in states like Georgia who have refused to be intimidated and perform their duties with honor. We need more leaders like these – right now." In the coming days, weeks and months as President-elect Biden works to restore a common goal of our policy. It is up to all of us as Americans, regardless of party, to support him in this goal.